Aktach-Teletskoye-Aktach 360km, 11,5h
Aktach 3600 inhabitants.
We were both tired from yesterdays travel and decided to continue to sleep when the alarm went off. That was a good choice since today turned out to be a tough day… Even after spleeping late we took off at 9.15 am with sunny weather.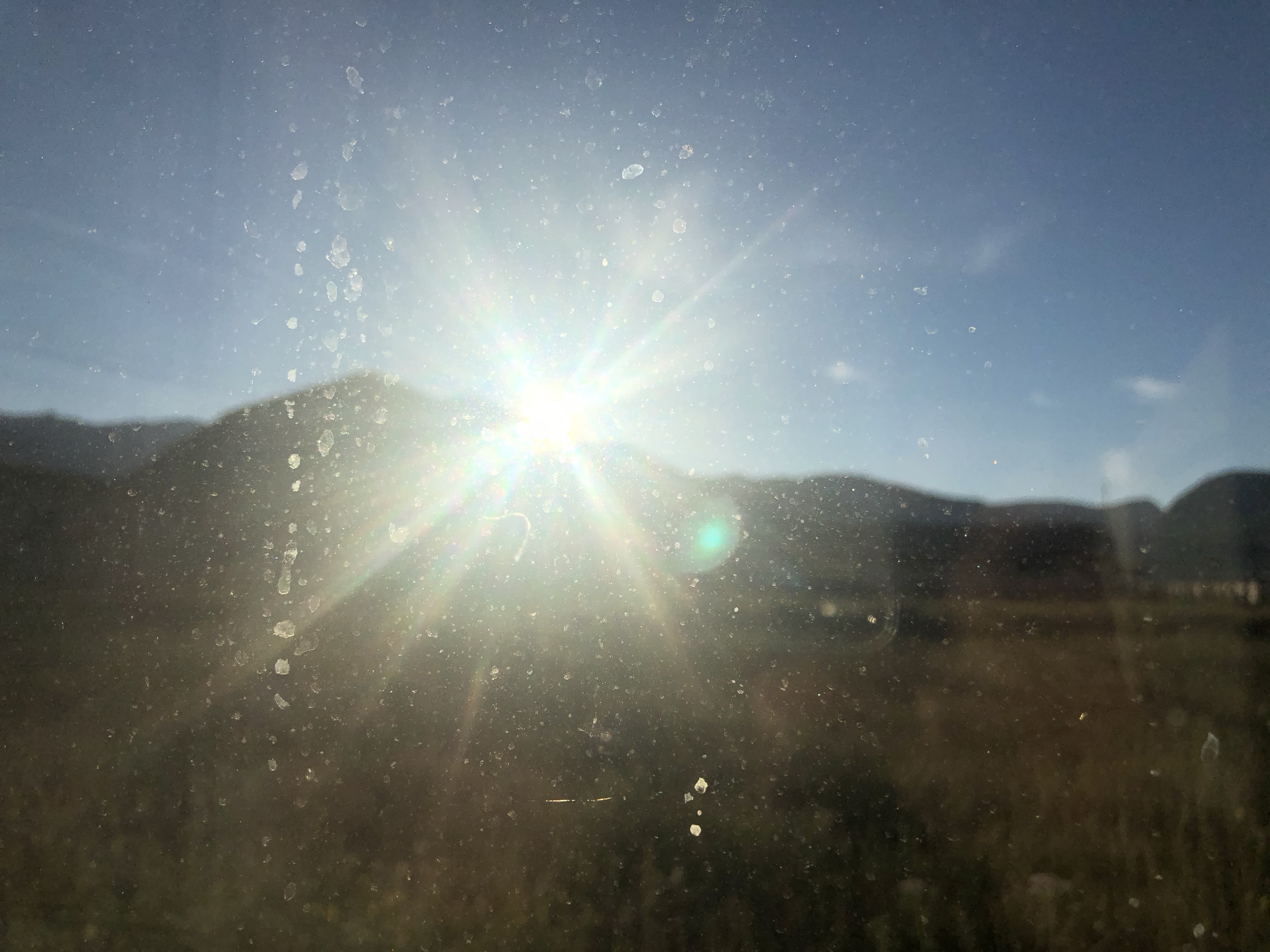 First thing was to fill the fuel tanks and Mikas reserve fuel canister. The new canister was leaking but luckily that was only poorly installed casket. It appears that the canister is not too well designed but thats ok as we plan not to use them often. Other challenge was that Mika only got 8 litres of fuel instead of 18 liters he had bought. That was sorted out with the staff and we only lost time.
And as we had not got any breakfast yet, we bought some fruits etc. from the grocery store. Then we finally got going. And it only took 2 minutes till the scenery became stunning! Road was switching between paved and gravel for some time and then turned to constant gravel. And it did not take long till the first problems: Samis bikes rear brake would not work. We stopped to check and the fix was simple. We just needed to push the axle of right footpeg back to its place and re-lock it temporarily with wooden stick. The axle of the peg had come half way off and stopped the brake pedal from moving properly.
Roads got worse and worse and it started to be properly rough riding. And that took its toll: Mikas saddle back fell off! Luckily Mika was leading so Sami could see the bag fall and we did not lose it. The bag took damage, some stiches we broken and we had to tie to bag to bike in another way. However it should be fine, just more difficult to access the contents of the bag. Naturally that added a bit to uncertainty part of the day…
The views were really awesome and at tops we were at the altitude of 2450 meters. We took some photos in some of the nicest places and lots of videos everywhere. Sometimes the road was having huge drop on the other side, a bit scary feeling on a narrow, very rutted gravel road… The highligh of that was a serpentine descent to Chulyshman valley. Just grazy descent, narrow road, no fences, superb views and tractors towing up some cars that could not make it back up (or the drivers did not dare to try).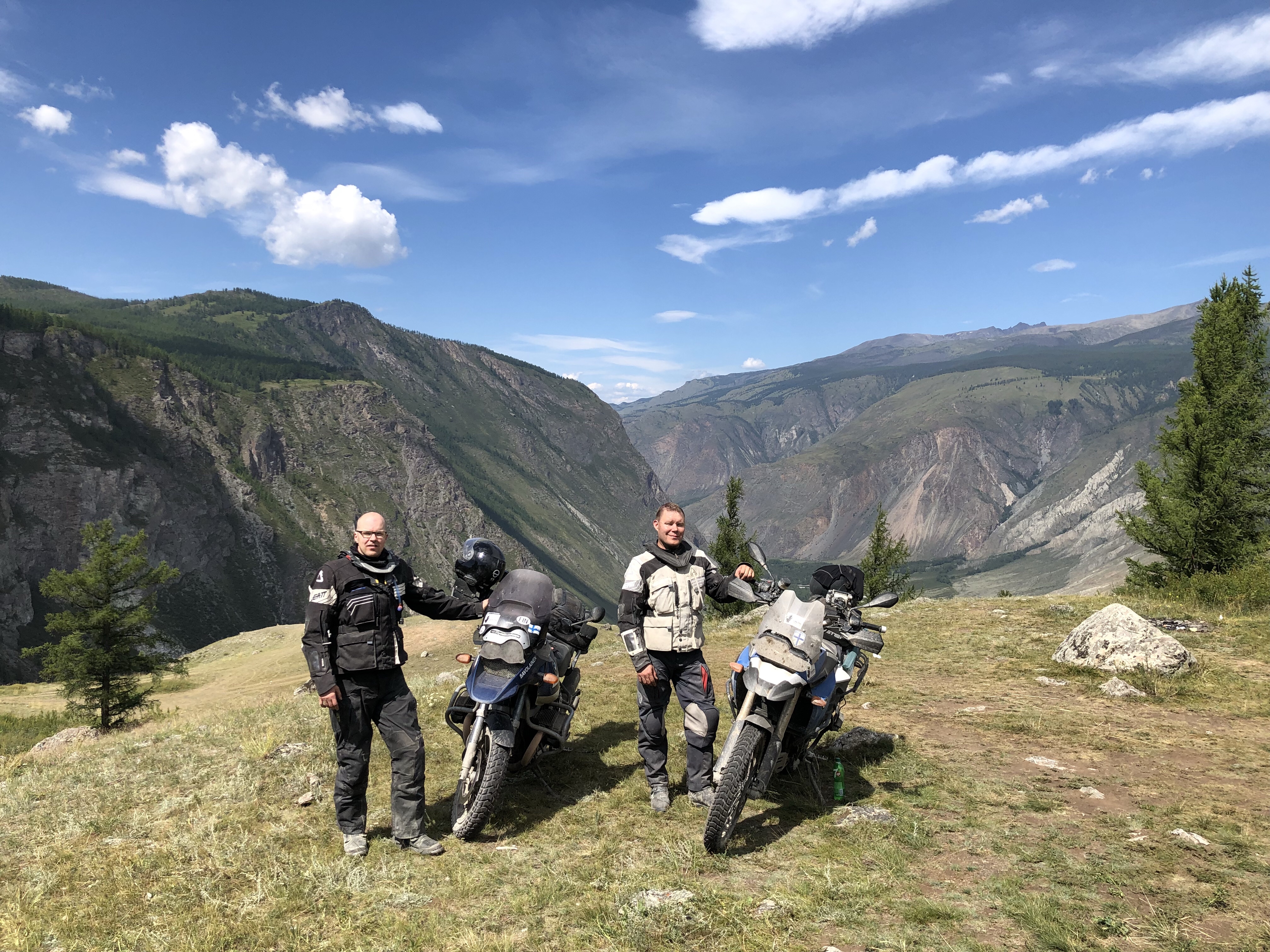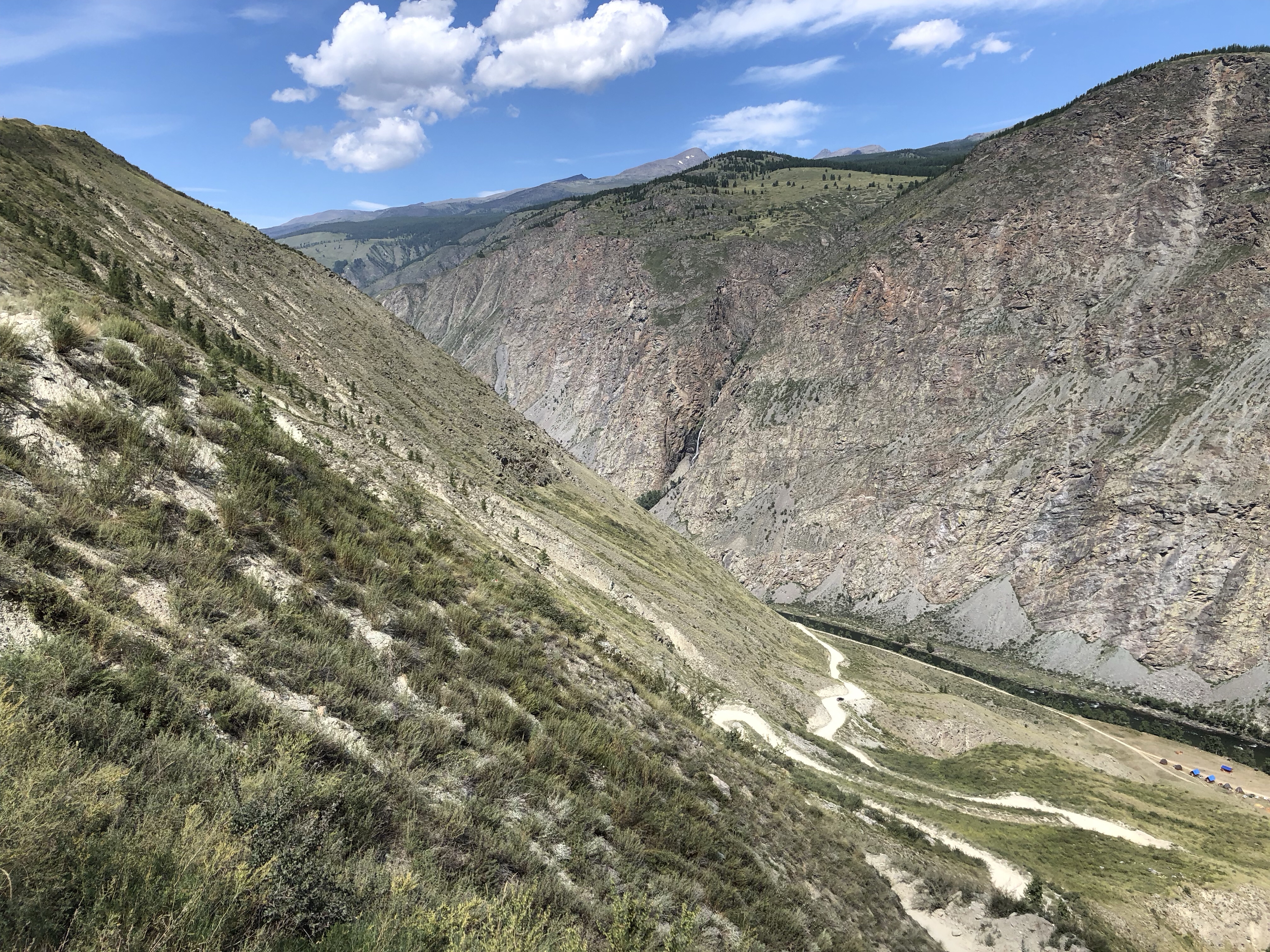 Temp was over 30 degrees the whole day and with the riding gear thats hot! And especially when the terrain is tough also. This put our endurance and physics overall in test. And to add to that, after descent, Samis bike started acting again and Mikas bikes front blinkers started hanging loose on their wires. The blinkers we could secure manually, since we had no tools with us on this day trip, and had to repeat that many times during the day.
The 75km leg from the descent to the Lake Teletskoye was the toughest on this trip. Samis bike acted more and more and was very hard to ride. Due to the road you need good throttle control but just when you needed more power, the engine just died and left you coping with the situation unarmed. That accompanied with very hot temperature pade s struggle quite a bit. When the bike would not start easily after one of the many times it "died", we decided to have lunch break instead of pushing on to the lake and having lunh there as originally planned.
The place for lunch was awesome, by the Katun (we believe it was Katun) river under the shadow of big trees, with great mountain views. We prepared the lunch and the energy was very much welcome, just like the break and chance to cool a bit. We had been riding for 5,5 hours at this point.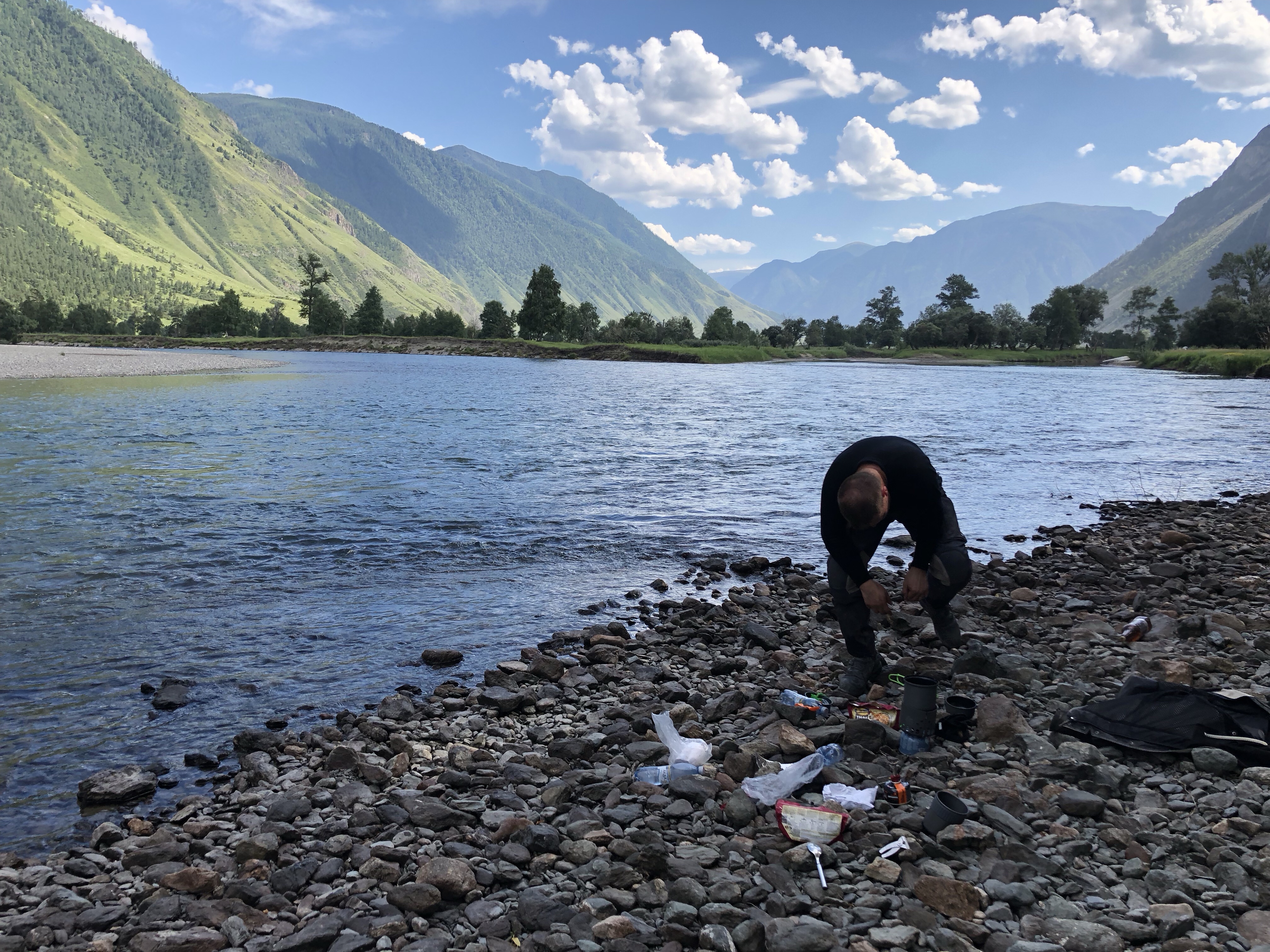 After lunch we got Mikas bag tied better and started the last 25 kms to the lake. That distance took us almost an hour, to give impression of the quality of the road.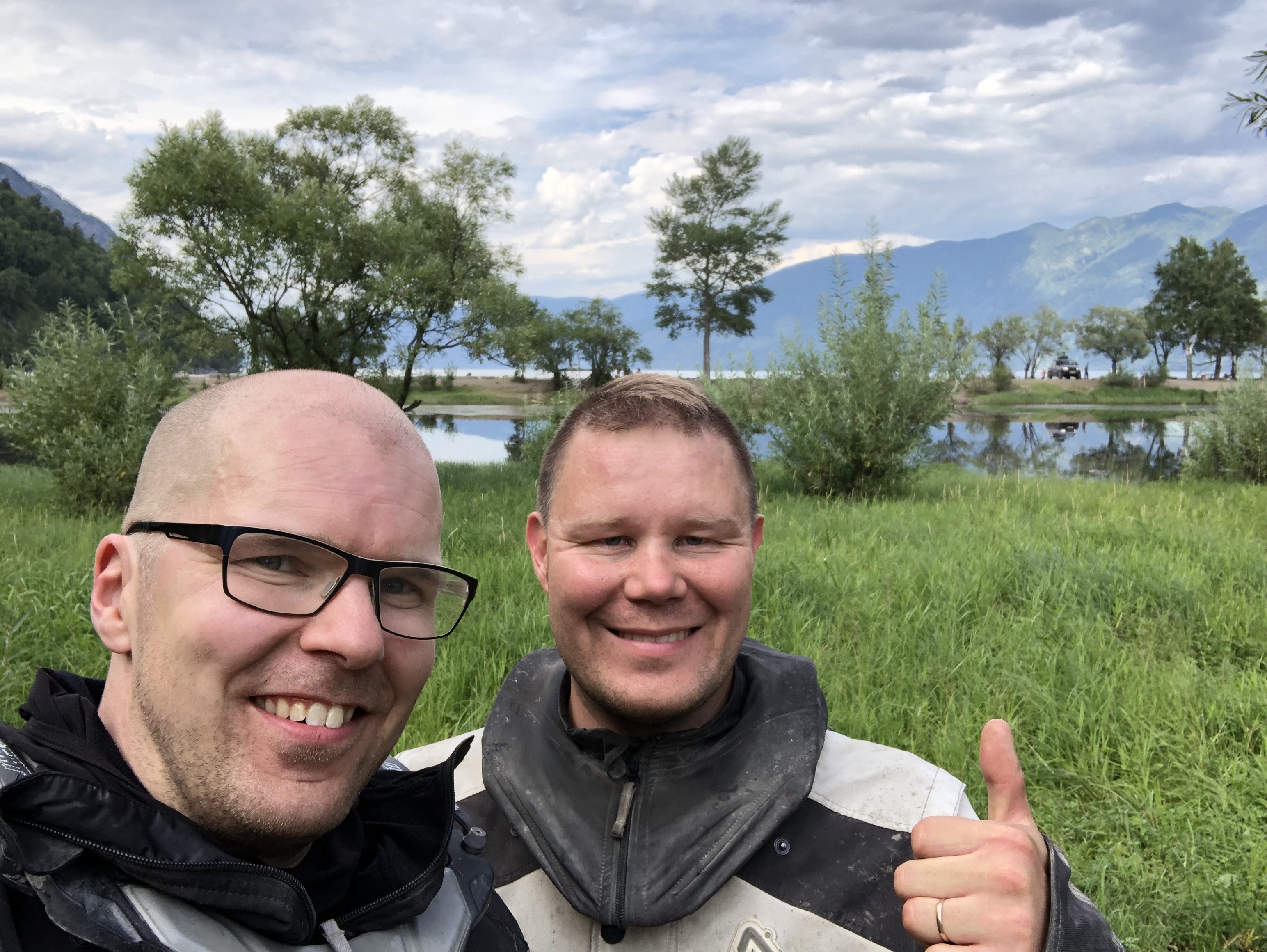 We took some photos by the lake and had a very short break. Then we had to start riding back since it was getting late ang coming here took us 6,5 hours (180 kms).
Soon after Samis bike started acting again. So it would not be an easy ride back either. Somehow the bike run better when riding more agressively so we blasted on quite fast. And then it was Mikas bikes turn. The whole front of the bike (with dashboard, headlight, upper "fender", windshield etc) became loose. It started jumping up and down. Two metal brackets had broken. Luckilythe front was sitting on top of metal frame so it would not fall down or cause risk to riding. Using some cable ties we made a temporary fix and blasted on…
Under the big ascent there was a small village and we took a break to let Samis bike cool down hoping that would stop the problmem. And we needed the break and water too! We met Ivan, local tourist guide who told us about how tourism is increasing in this earlier very isolated area every year. He is running his business and plans to expand from russian tourists to european as well. The views are so great that it is easy to believe in making this even bigger tourist attraction.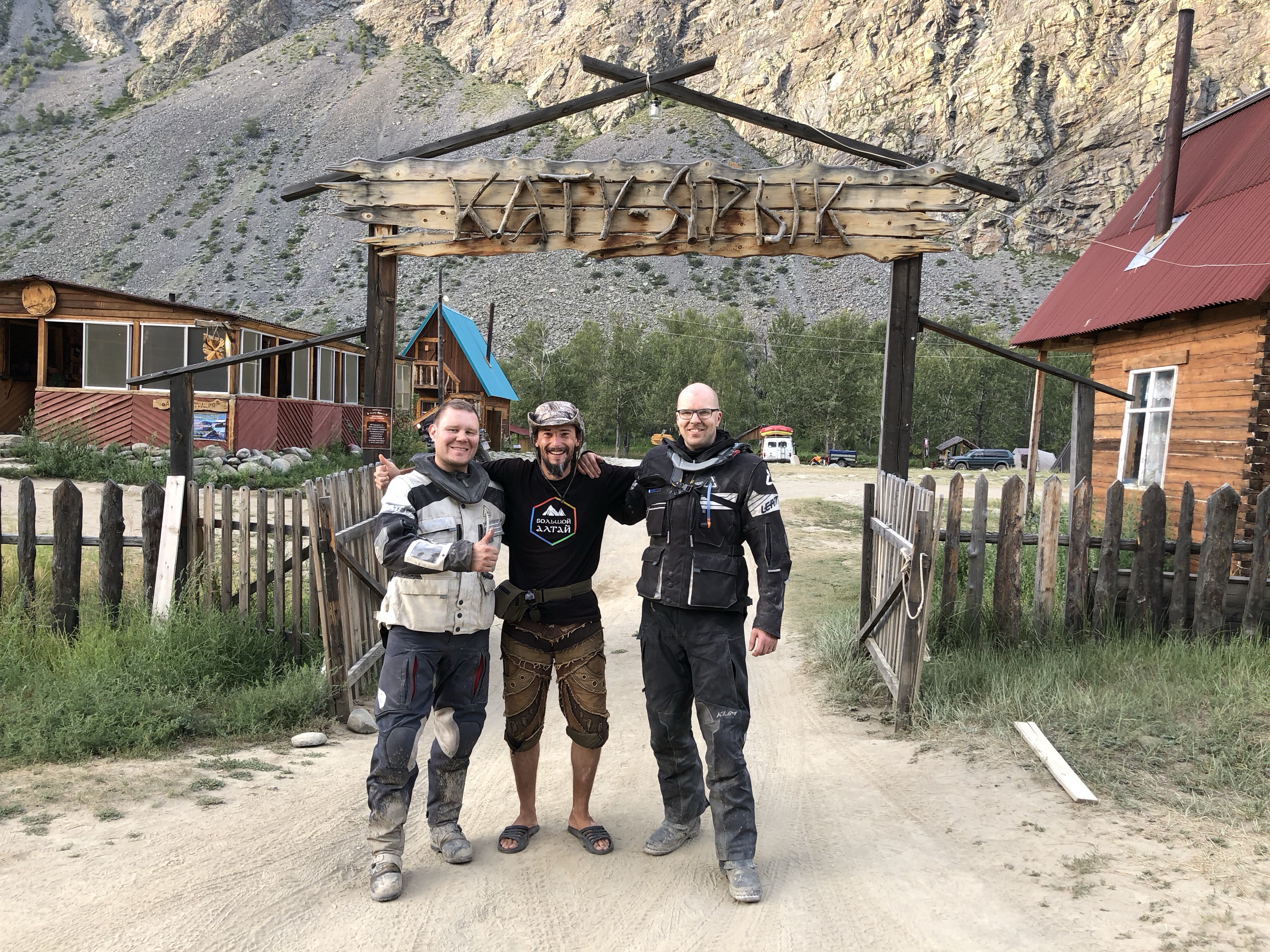 After the break we started our ascent. Sami went first but could bot get to the first steep uphill before the engine died. It seemed we would not make it. Finally the engine started and Sami really blasted the whole ascent to keep the bike running. Mika waited a bit for the dust to settle and then followed with more reasonable speed.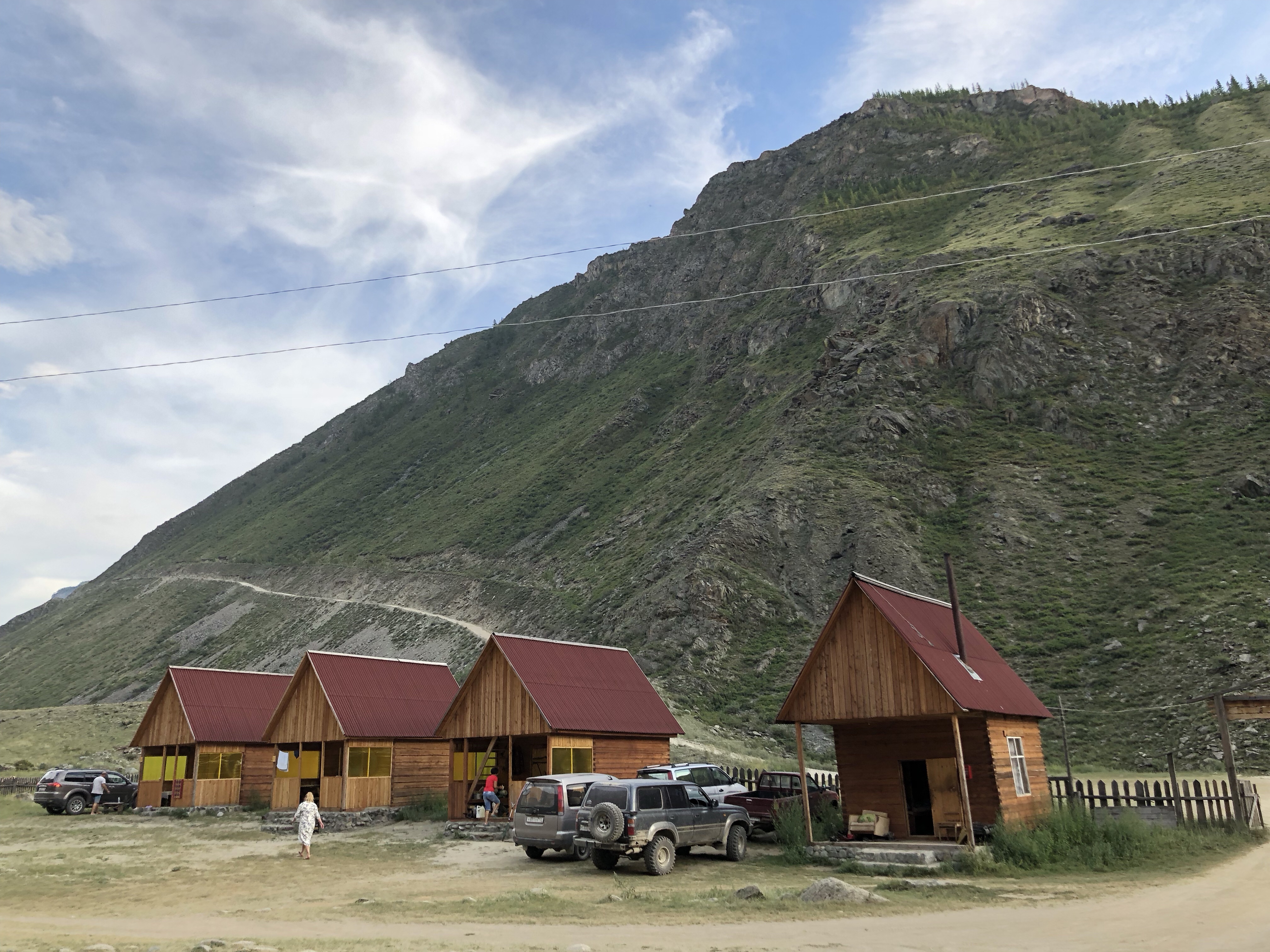 It is amazing what these bikes can manage. Yes, we had some problems but other than Samis bikes "dying" effect, they would not stop us. And the bikes were going through a real test on these very hard roads. With a light bike, like motocross bike, these roads would be fine but with these bikes it was tough.
After ascent we continued with Samis bike having problems until the bike would not start again. That happened in Ulagan village with almost empty fuel tanks and some 4 kilometers from gas station. We pushed the bike next to a small grocery store and took a break, eating ice-cream and having some drinks.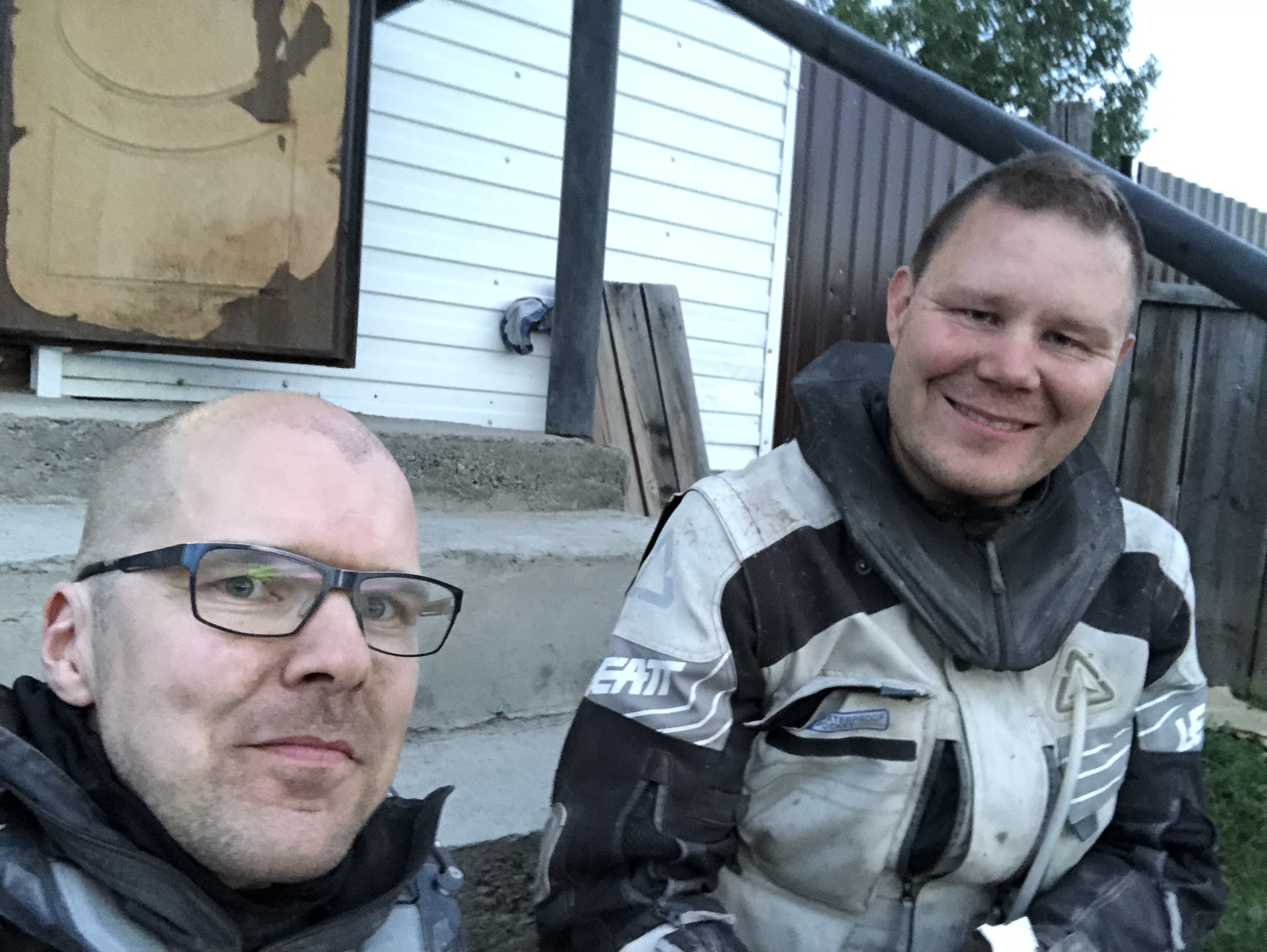 After refreshments, we managed to ride to the gas station and took a proper break there and filled the bikes up. At this point the sun set and it got dark, we still had some 55kms to hostel. So not very far and we knew that the road would be better closer to the end so we started again. We had to wash the headlight protectors as they were glogged and it was completely dark now.
We managed to ride safely back to the hostel, even though it was dark and there were some cows and horses on the road sometimes. And it was dark. We both have xenon headlights and they were very much needed on this ride. We spent about an hour on this 50km leg.
At Aktash, Mika bought some snacks&fruits etc. from the store since we had not had dinner and none was available at this point of tiime. He was provided with a great show by butterflies flying around a streetlight outside the store.
We reached the hostel at 9.45pm with total travel time of 11,5 hours, totalling 360kms on tough roads. We were both tired and exhausted, but had managed the day and its challenges well. Now we just had to wait for an hour or so before the shower of the hostel was free…
We were too tired to decide what to do tomorrow. The original plan is to go to Mongolia but now with the bike broblems we are hesitating. We will decide this in the morning after we check the damage to the bikes.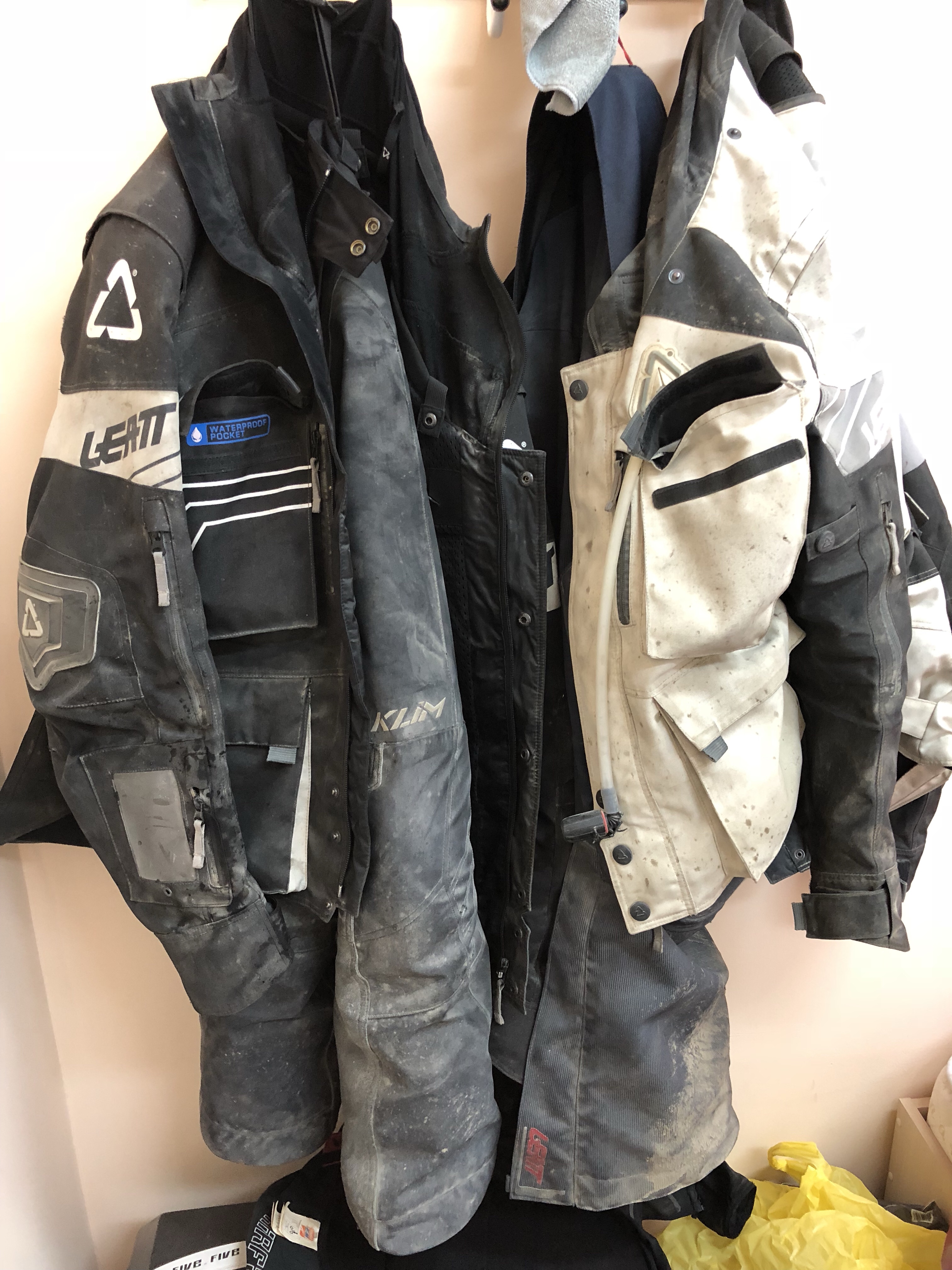 Overall a tough day, very hot, huge amount of dust and technical problems! Still well worth it! And did we mention the scenery 🙂