Today, not according to our original trip plans, was day of bike repairs. We were asked to come to garage at 10am and the shock absoorber should be ready by then. We woke up a little later than usual as we had time and went outside to search for a place to get some breakfast since it was not available in the hotel.
Walking the street close by the hotel we noticed a restaurant (cafe) that seemed potential. There was no one who would speak english and the menu was not in english either. That did not stop us from ordering,, especially when we got menu with some pictures from the waitress. We had chicken with rice which was good and would also keep the hunger away for quite a while.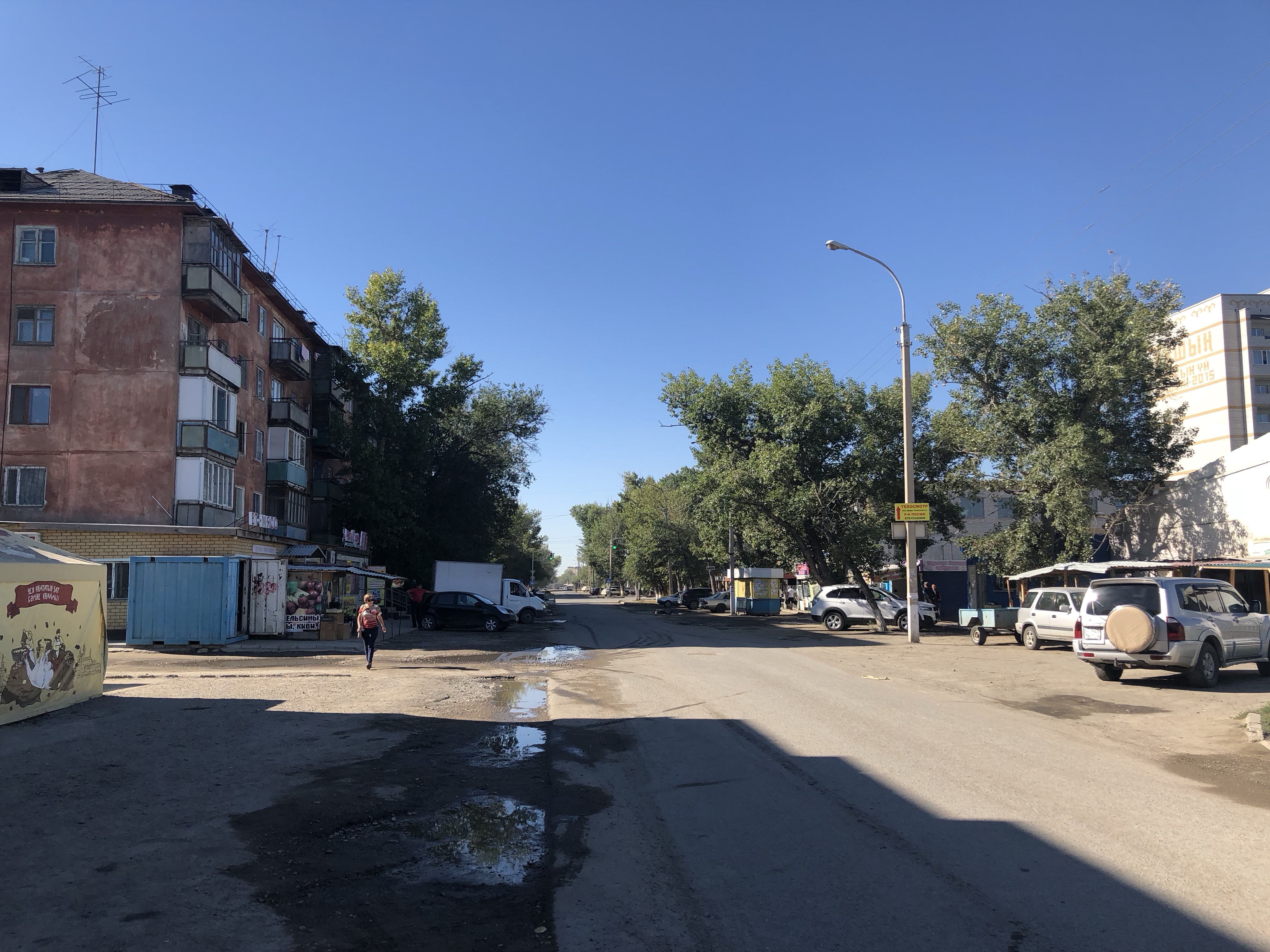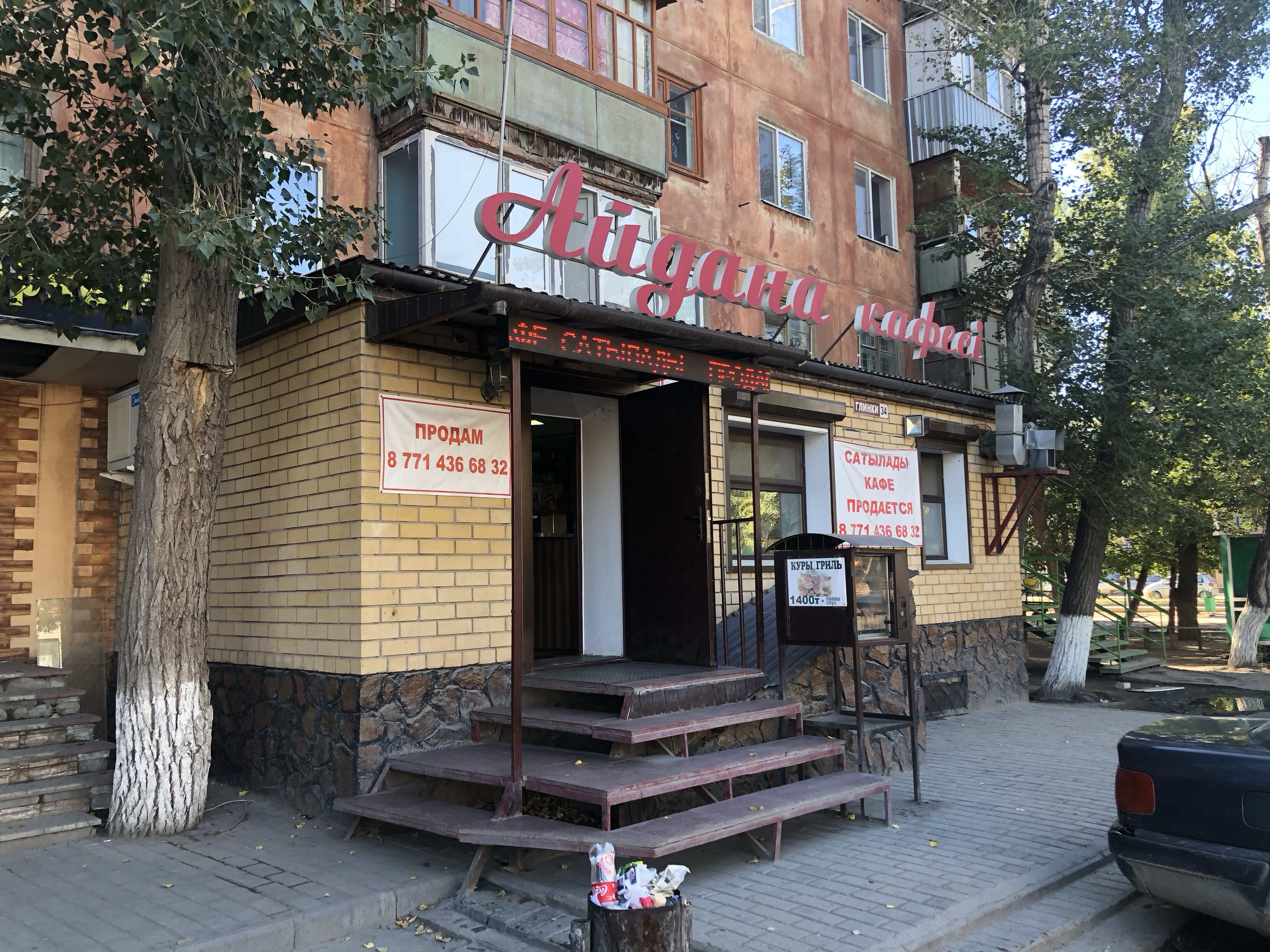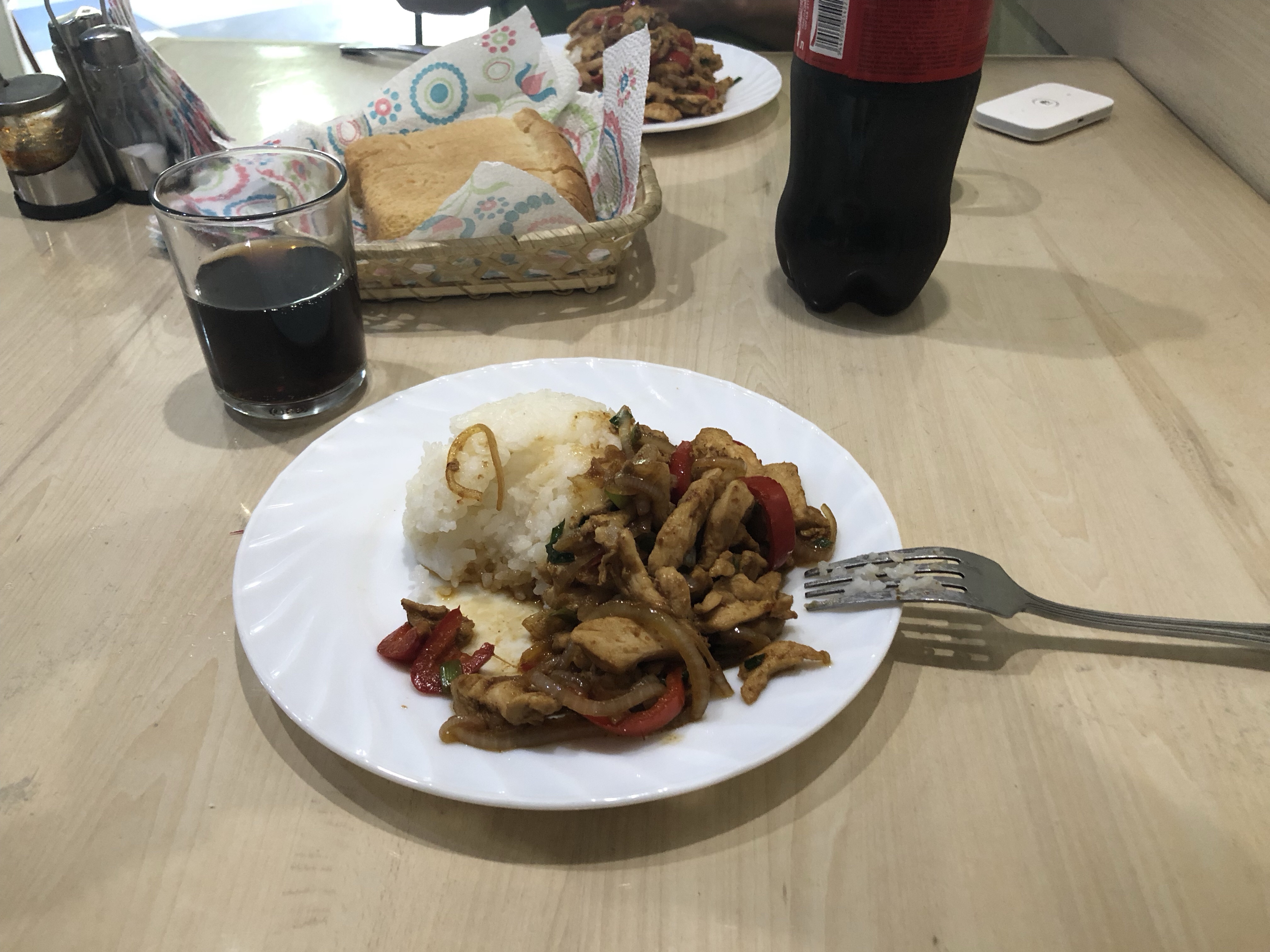 We got message that the shock absorber would not be ready by 10am so we can postpone going to garage until we get new info. So we took a taxi (using yandex service) to the Seme city center, that cost us about one euro. Tolik had said we could have used his driver but of course we did not want to disturb him with such minor thing. When we reached city center, Mika forgot his cell phone in the taxi but luckily the taxi was almost where we left it so he got the phone back easily. Would have been a big problem to lose it, since taxi was ordered using Mikas phone and we would not have info about which taxi it was where he left the phone.
We walked around in the shopping malls and the basaars.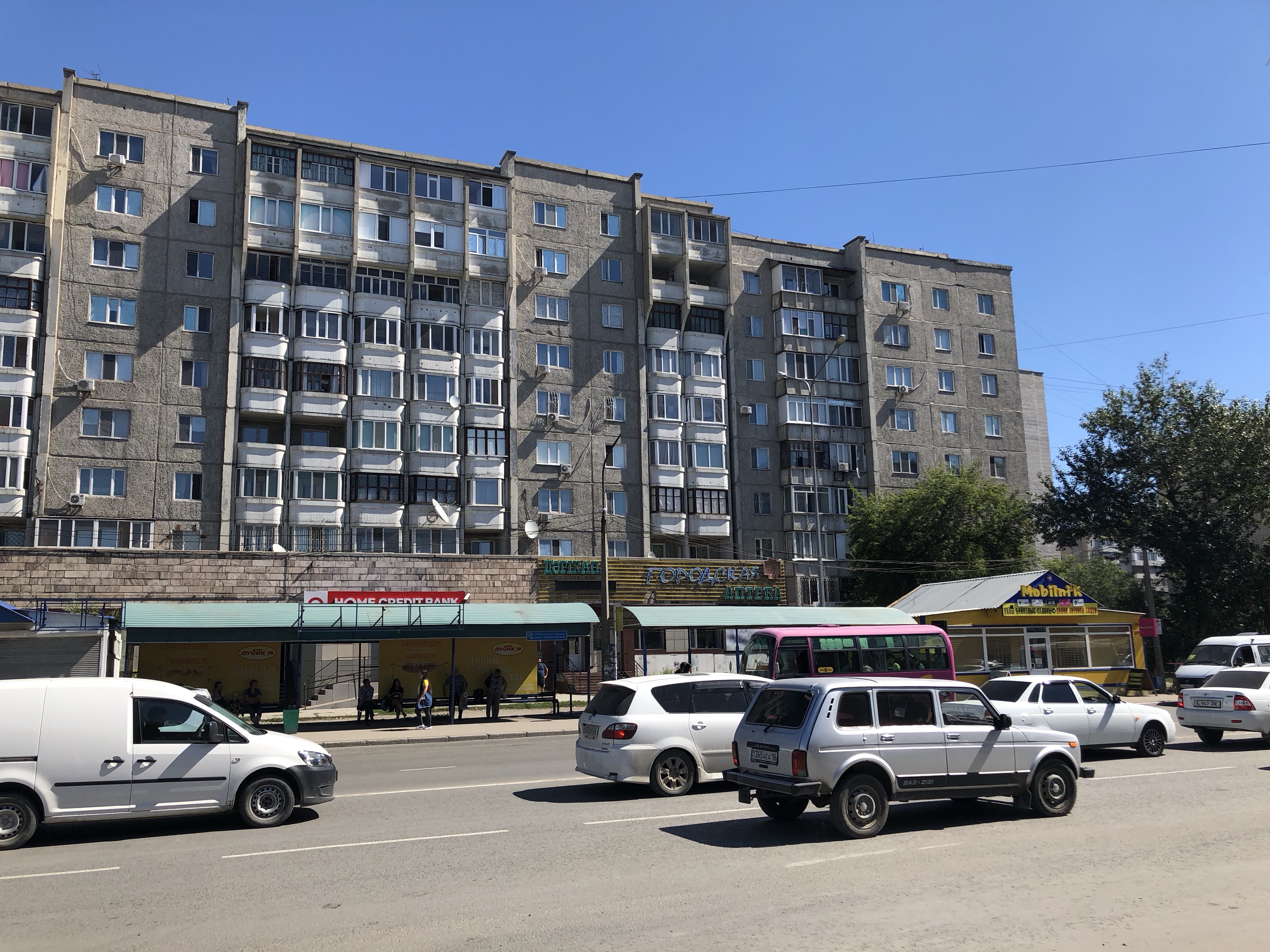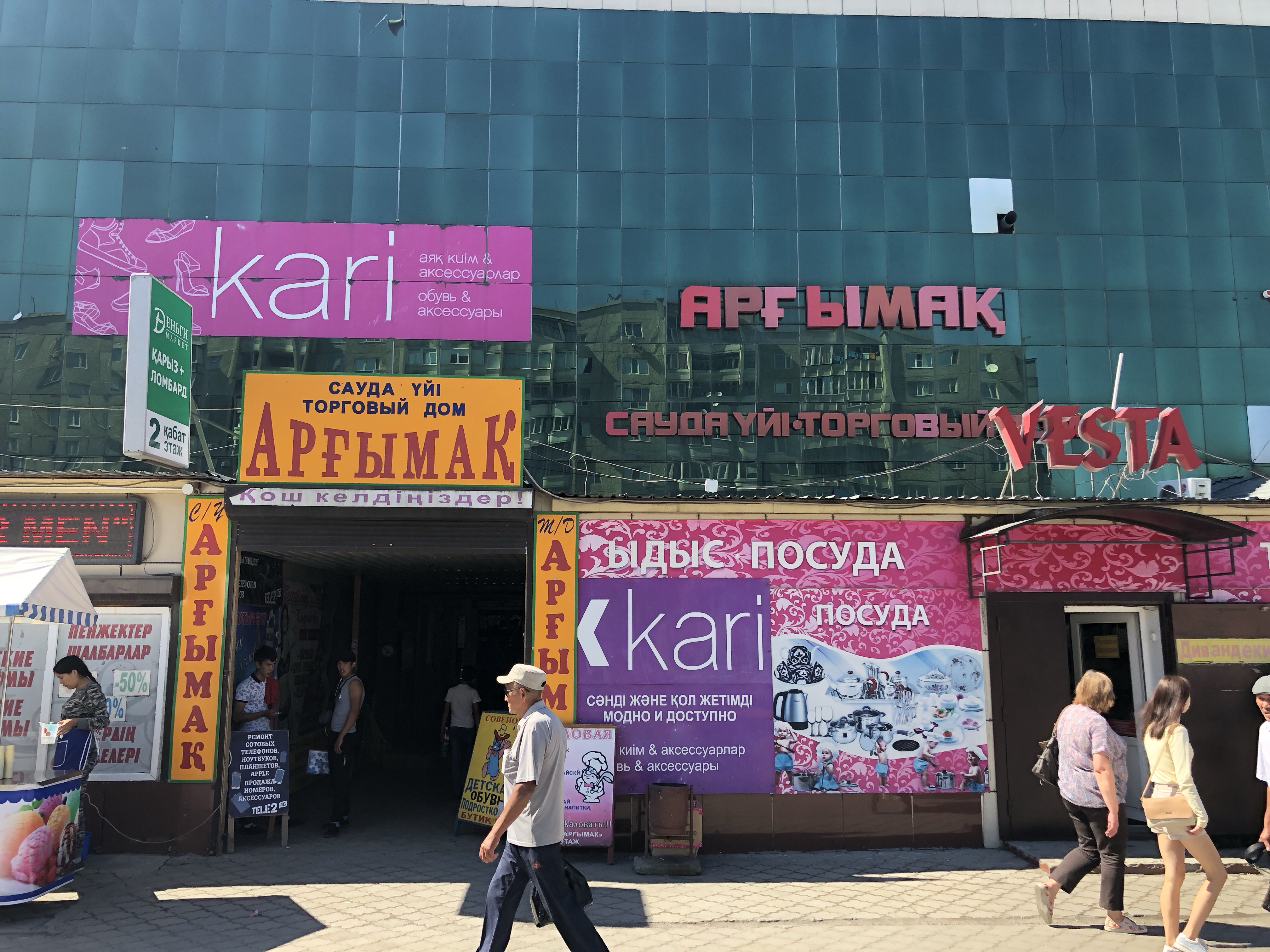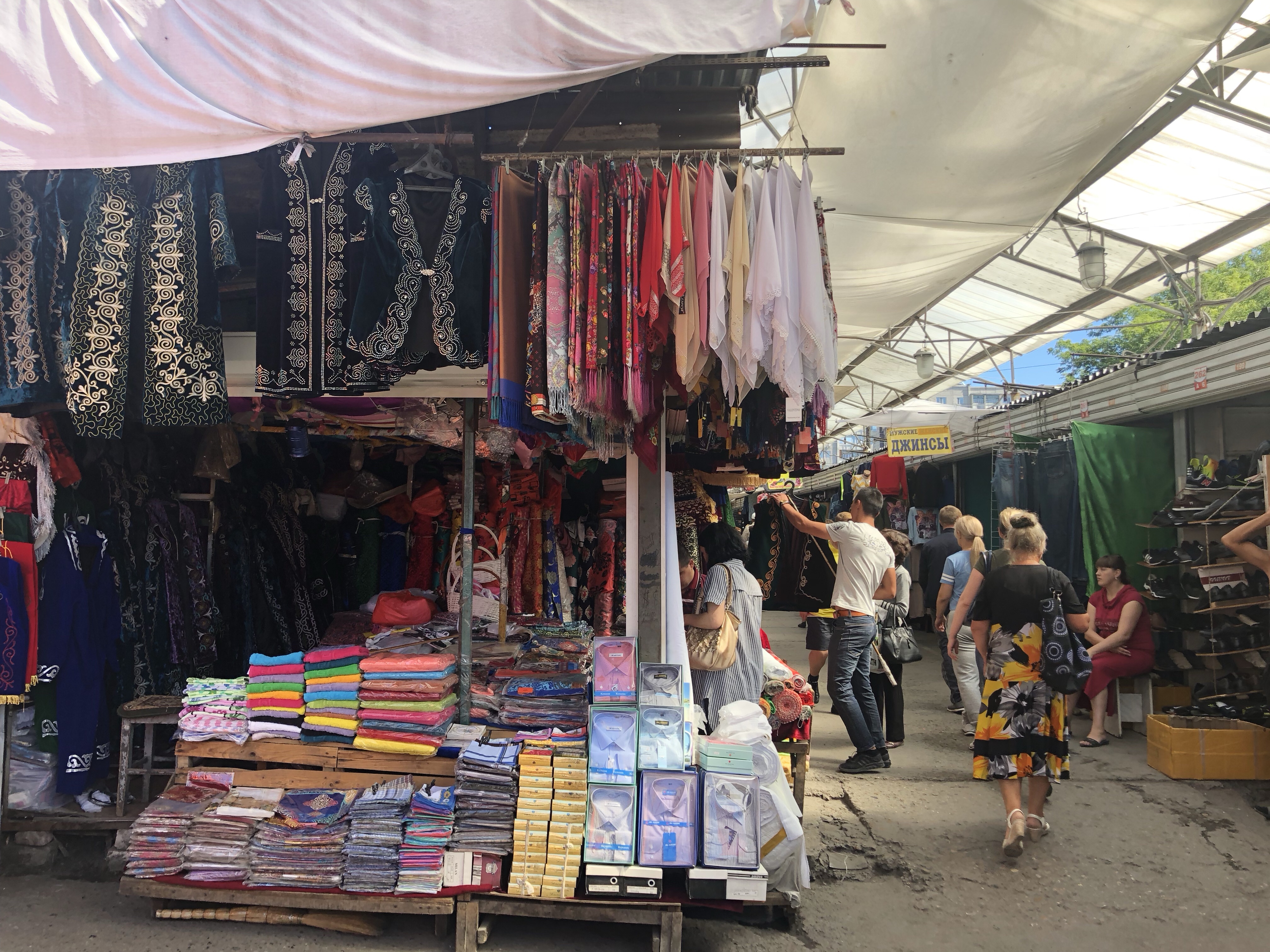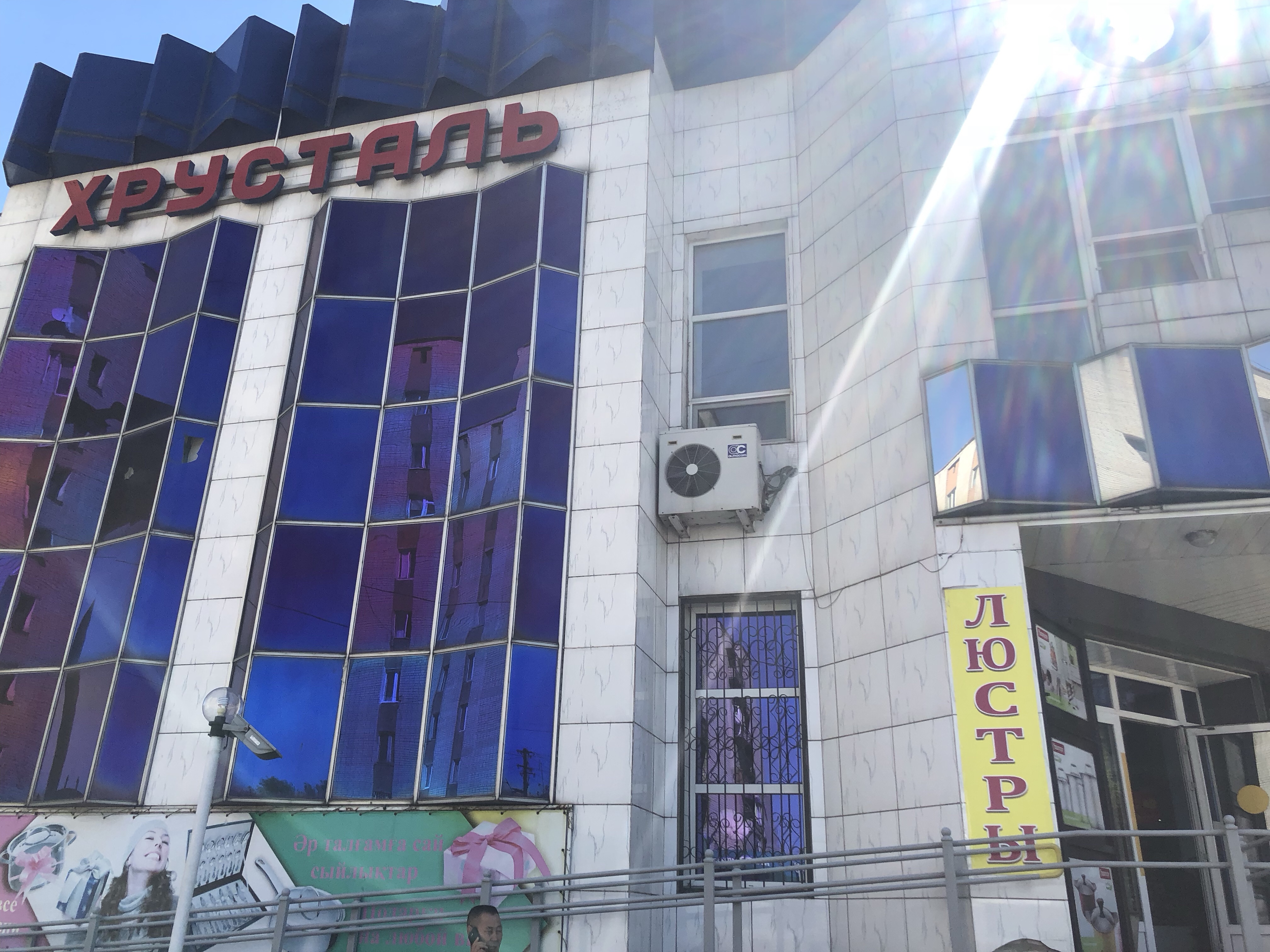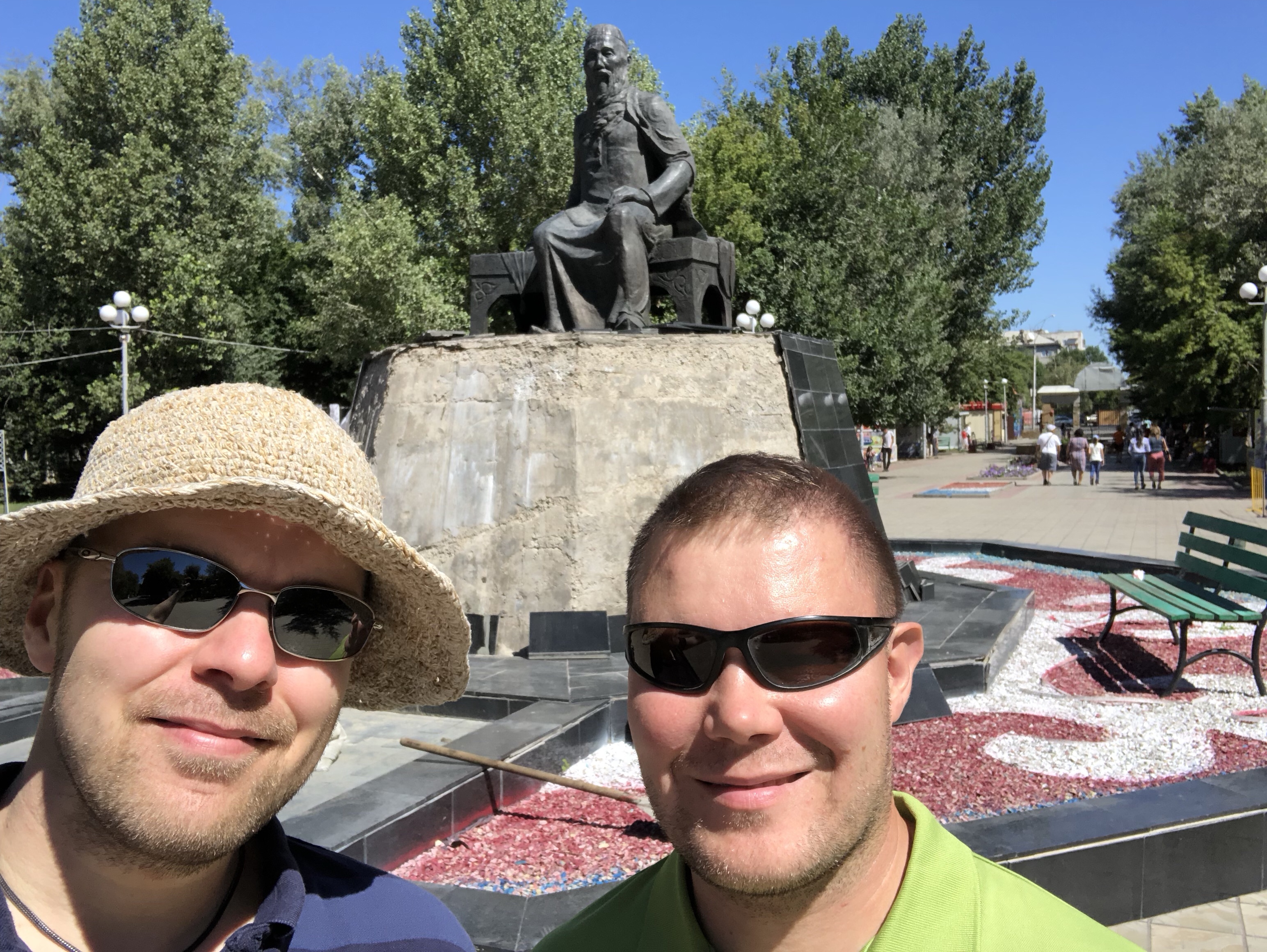 We did not buy anythig, we just walked around. Lots of people and amazing amount oof different kinds of stuff, from metal crap to quality brand clothing, and lots of copies of known brands.
Soon we got info from Olga that Sergey is now at the garage with the shock absorber. We took a taxi and in no time we reached the garage. The moment of truth: And what a pity, the bike was not good to ride even though the repair. Sergey and his friends had done amaziing job creating new parts out of nowhere and fixed some critical things but even they could not add the gas pressure to the shock absorber since that would require some special tools and that was not available in the whole city. So the rebound damping was completely missing and the normal damping was not adequate.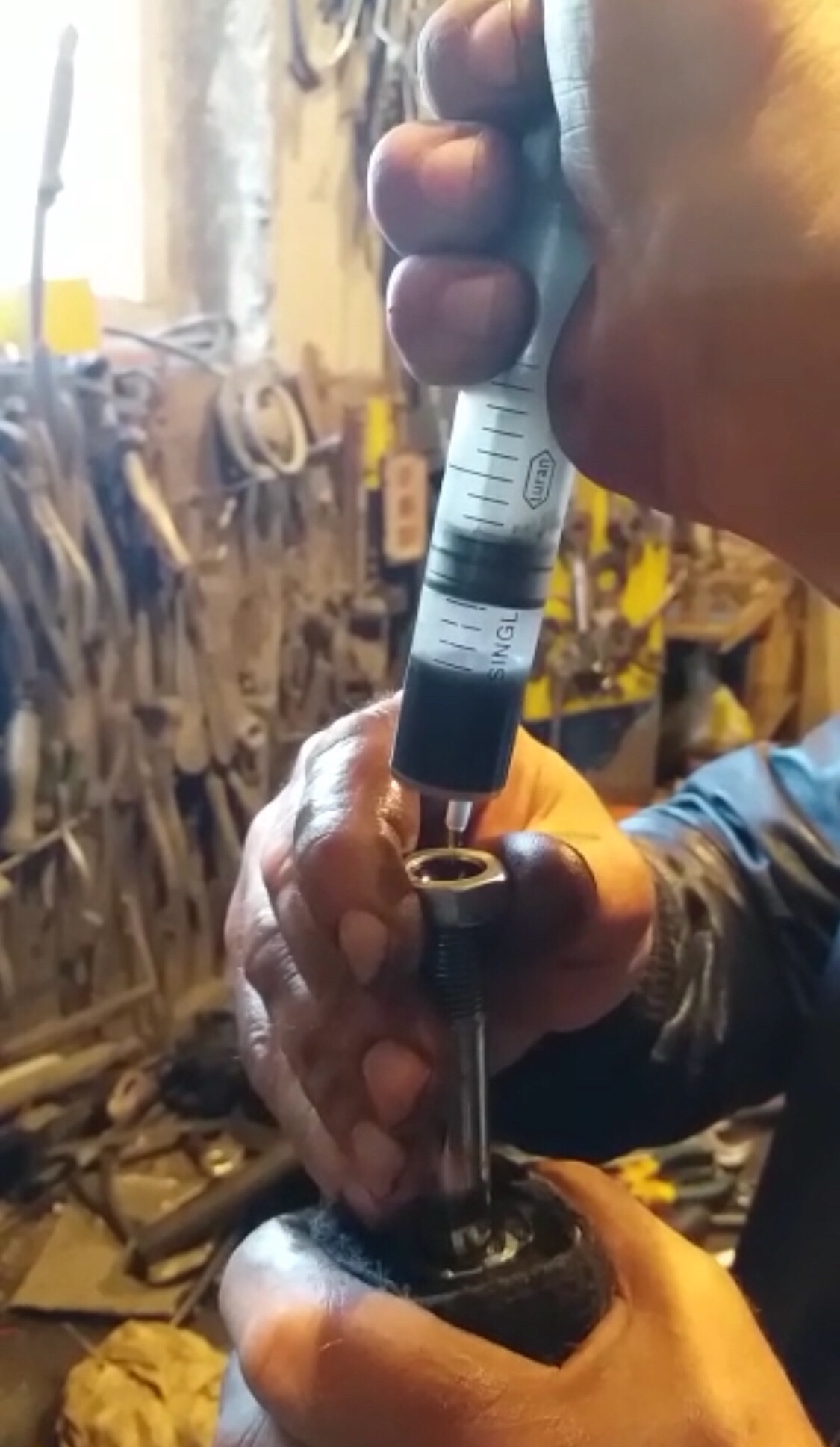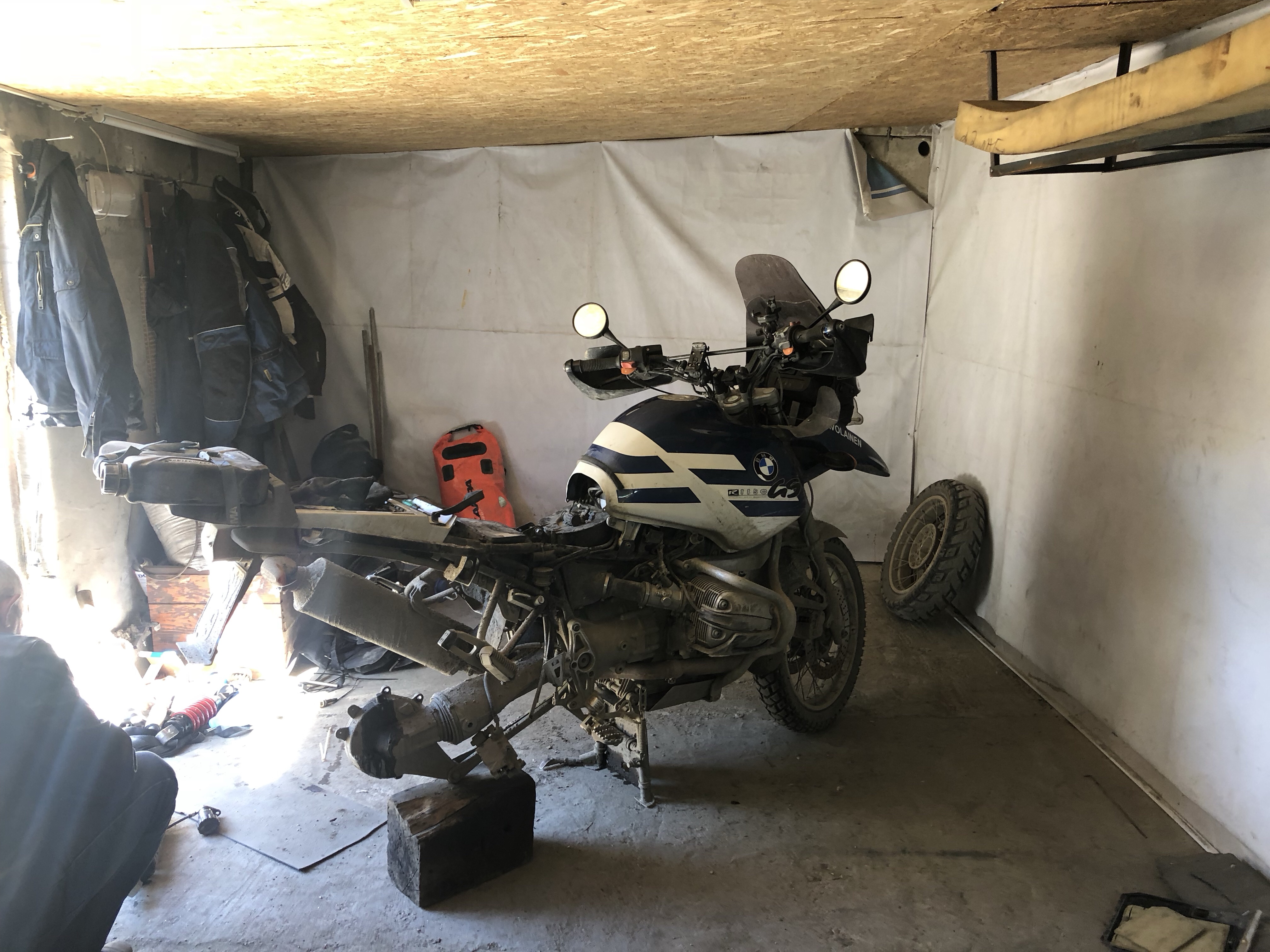 Next option was to replace the broken part with same brand shoc absorber from another bike. That, however, was not possible since even with heavy modifications it would not have fitted in place. The third option was to use some rubber "in" the spring to dampen the hits. We started creating rubber parts from rubber hose but as Tolik came to the garage, he kew about a place where we could get rubber custom made for this purpose and using harder rubber. So we too of with Tolik to the rubber workshop.
Tolik called the workshop "ghetto car service" as it was operating in an abandoned soviet factory and creating many kind of rubber elements for car suspension parts from recycled tractor tyres. The environment in this workshop was quite terrible but the guys working there were true craftsmen, real professionals! This young guy created a custom made rubber element for the spring and it was just perfect. He really knows his work, we can just admire such skills!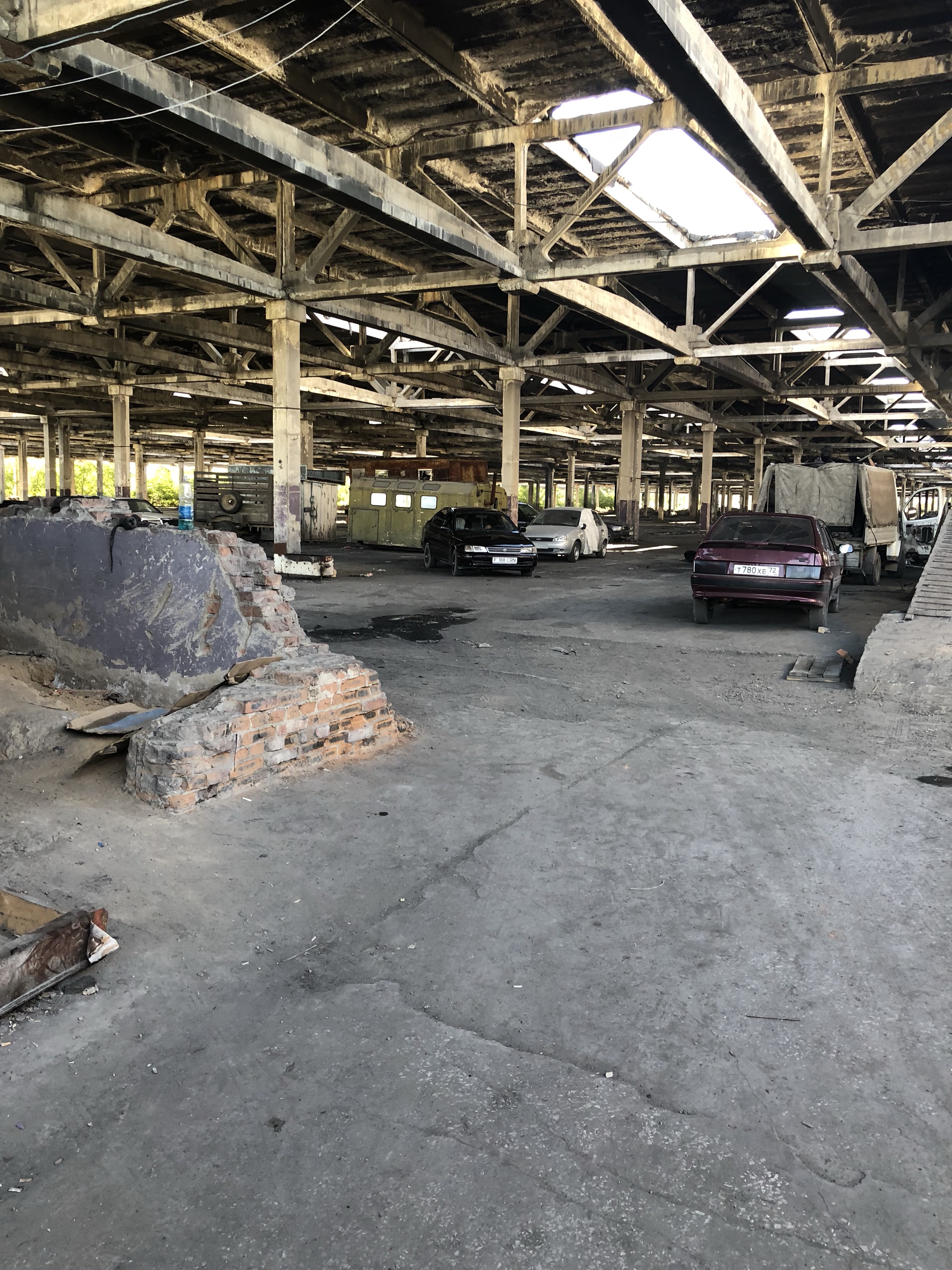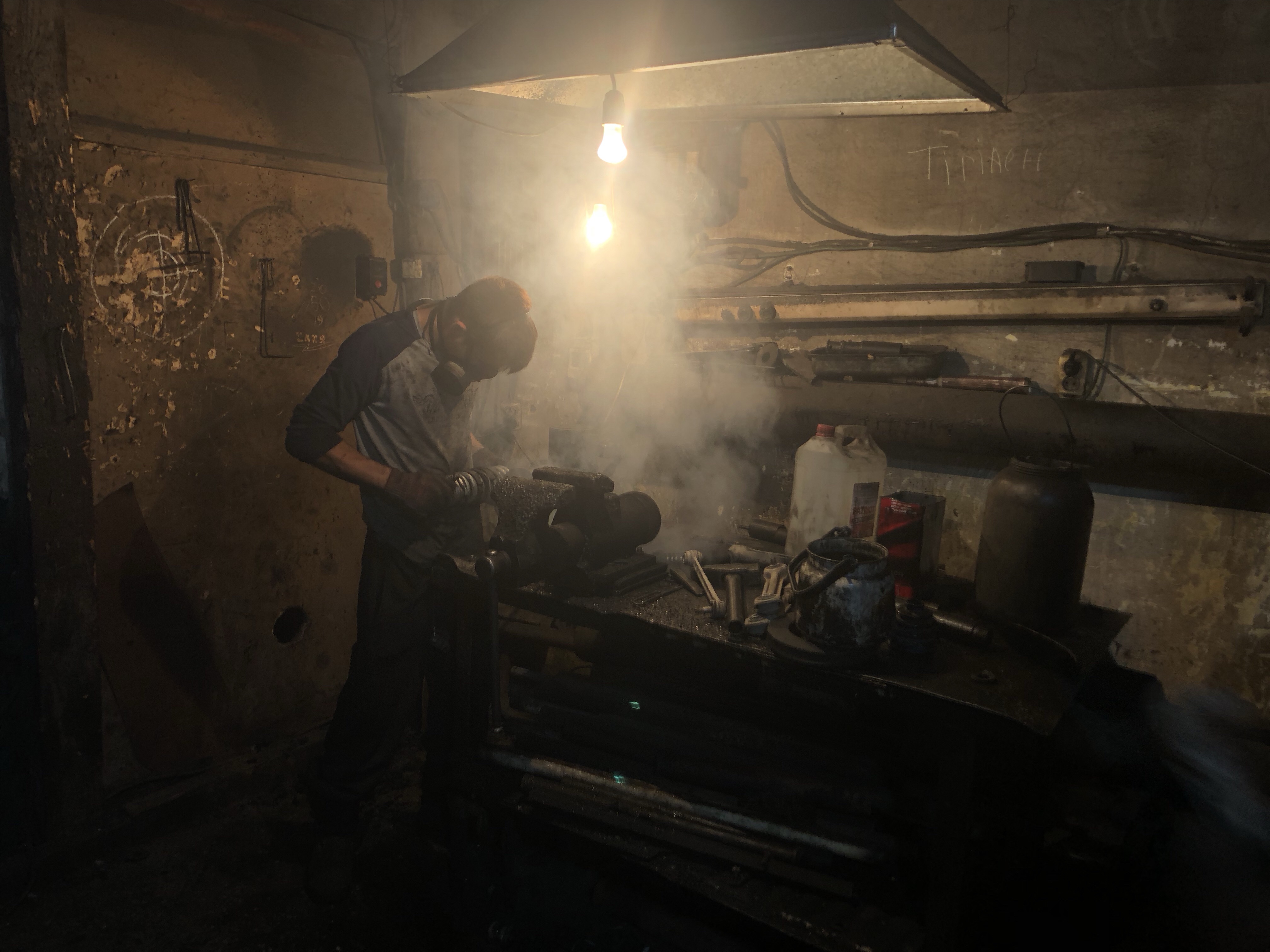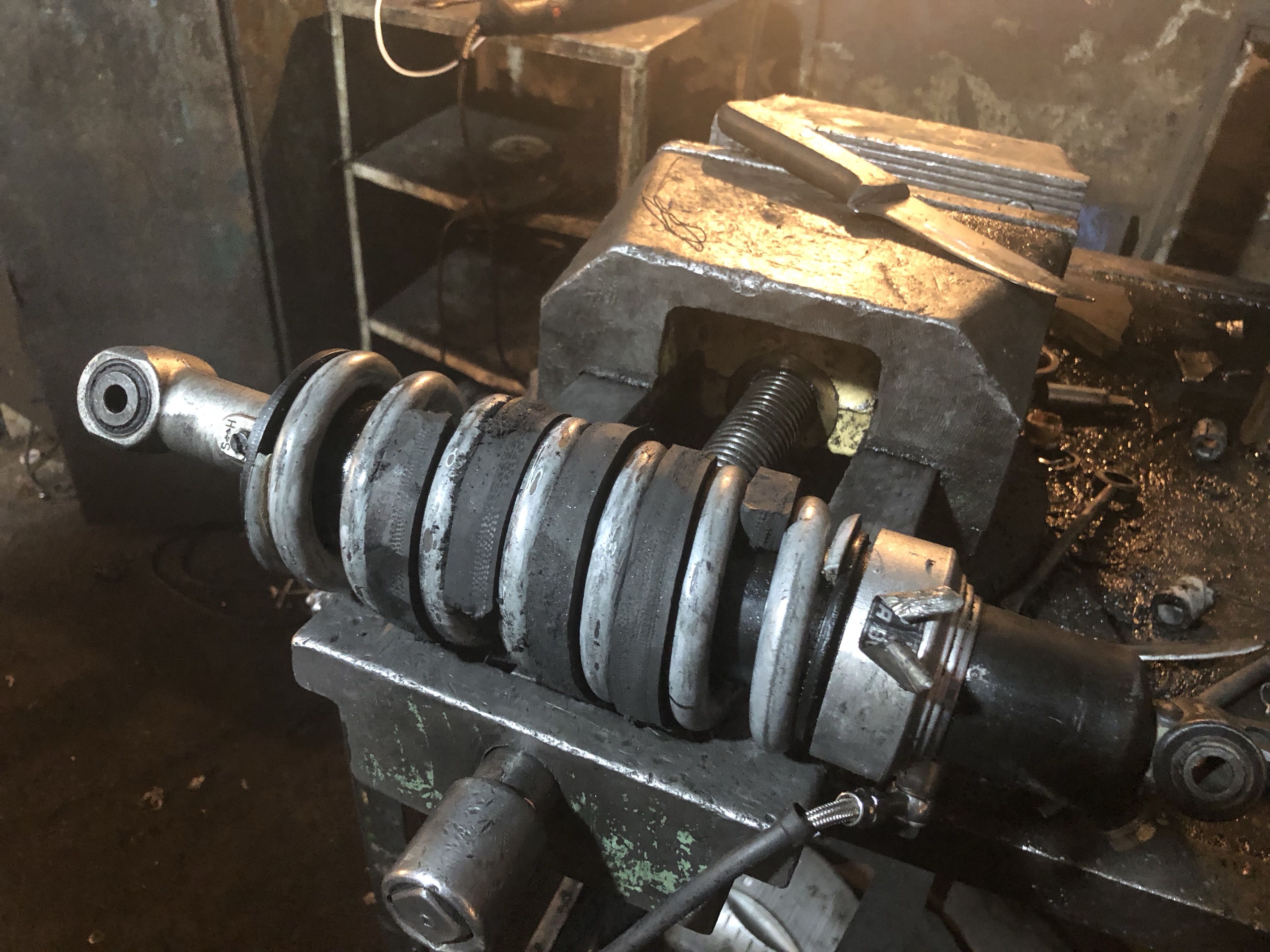 Then it was time to go back to garage and finalize the attachment of rubber elements with some metal wire and tape. Shock absorber back to its place and a test ride. Even Tolik wanted to stay with us and see how it works even though he had to cancel english glass and probably lot of other plans due to helping us. Such a great man, super helpful!
The result of the test was, as expected, not super good. The bike can be ridden somehow but this is just a temporary fix to get us home. No bad roads! Closest place to get new parts in reasonable time would be Novosibirsk and that would take us far to wrong way so it was not a real option. So the plan is to start with the bike in the morning and try to make it over 5000kms home, avoiding bad roads.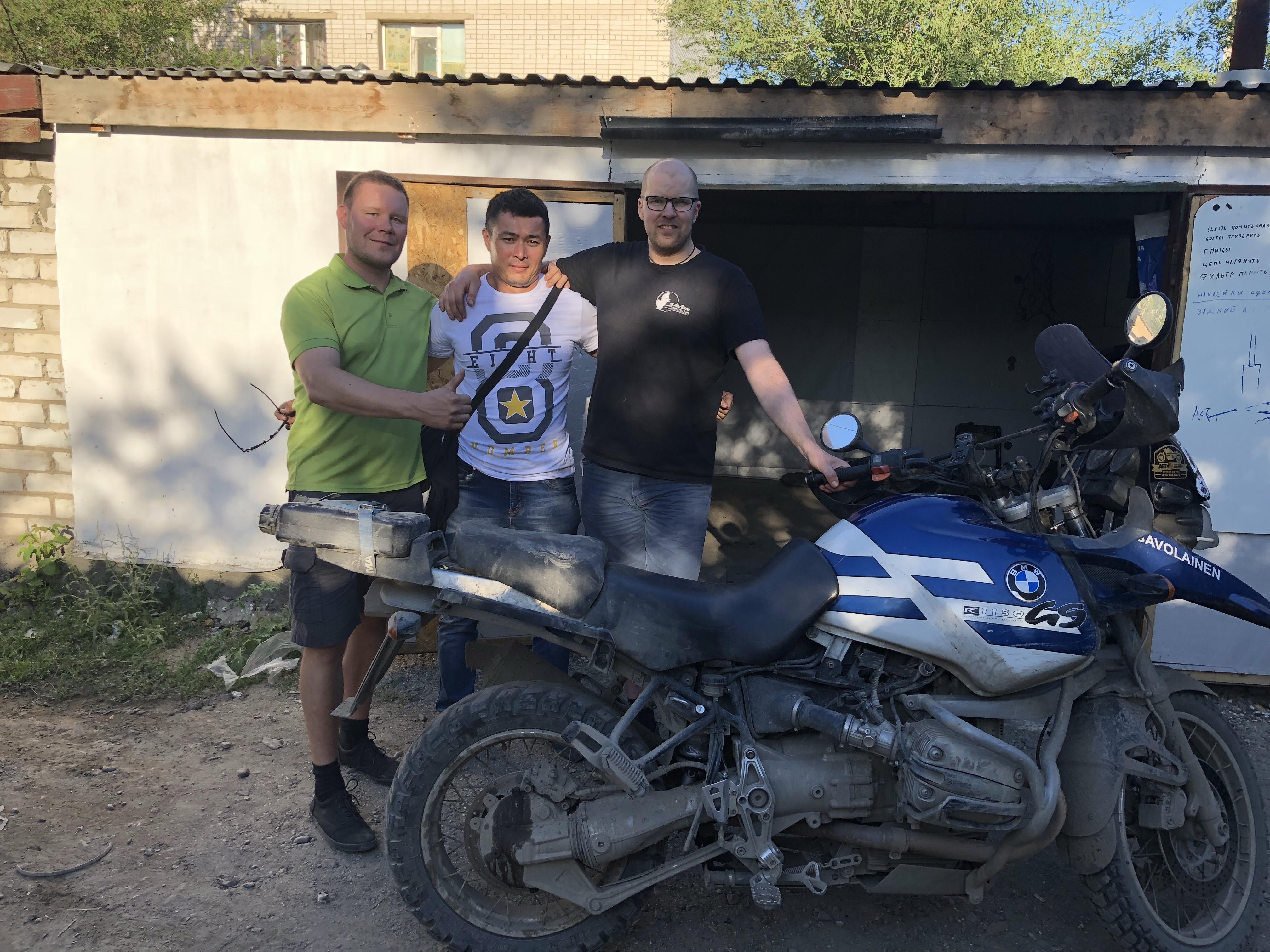 In the evening we went back to city center for pizzas. We could not understand the menu and were wat too hungry to use the translator so it was a bit of surprise what was in the pizza but it tasted good and the place was nice.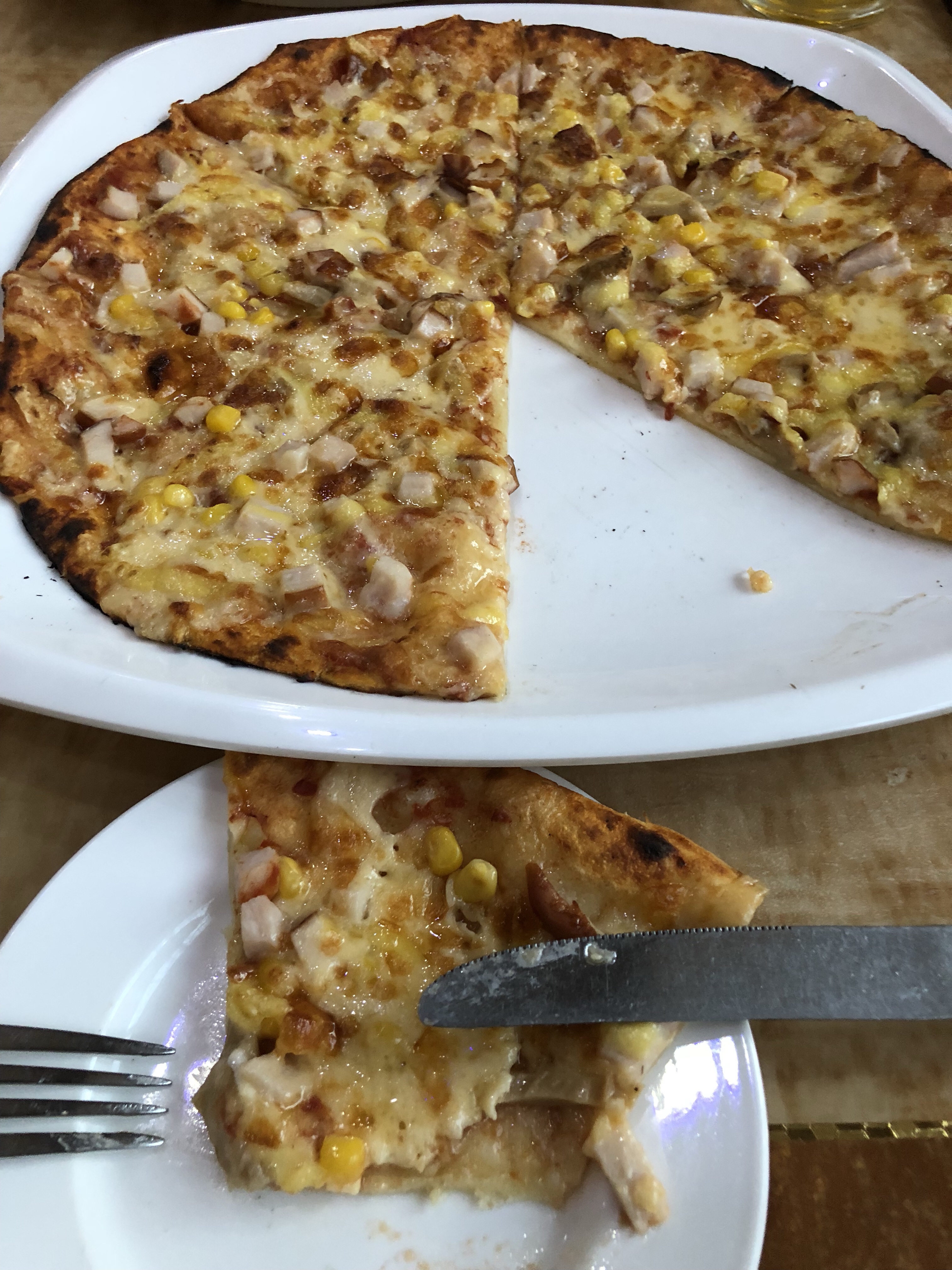 Then a short walk and liquid desert before going back to the hotel. Mika went straight to bed and after some blogging so did Sami.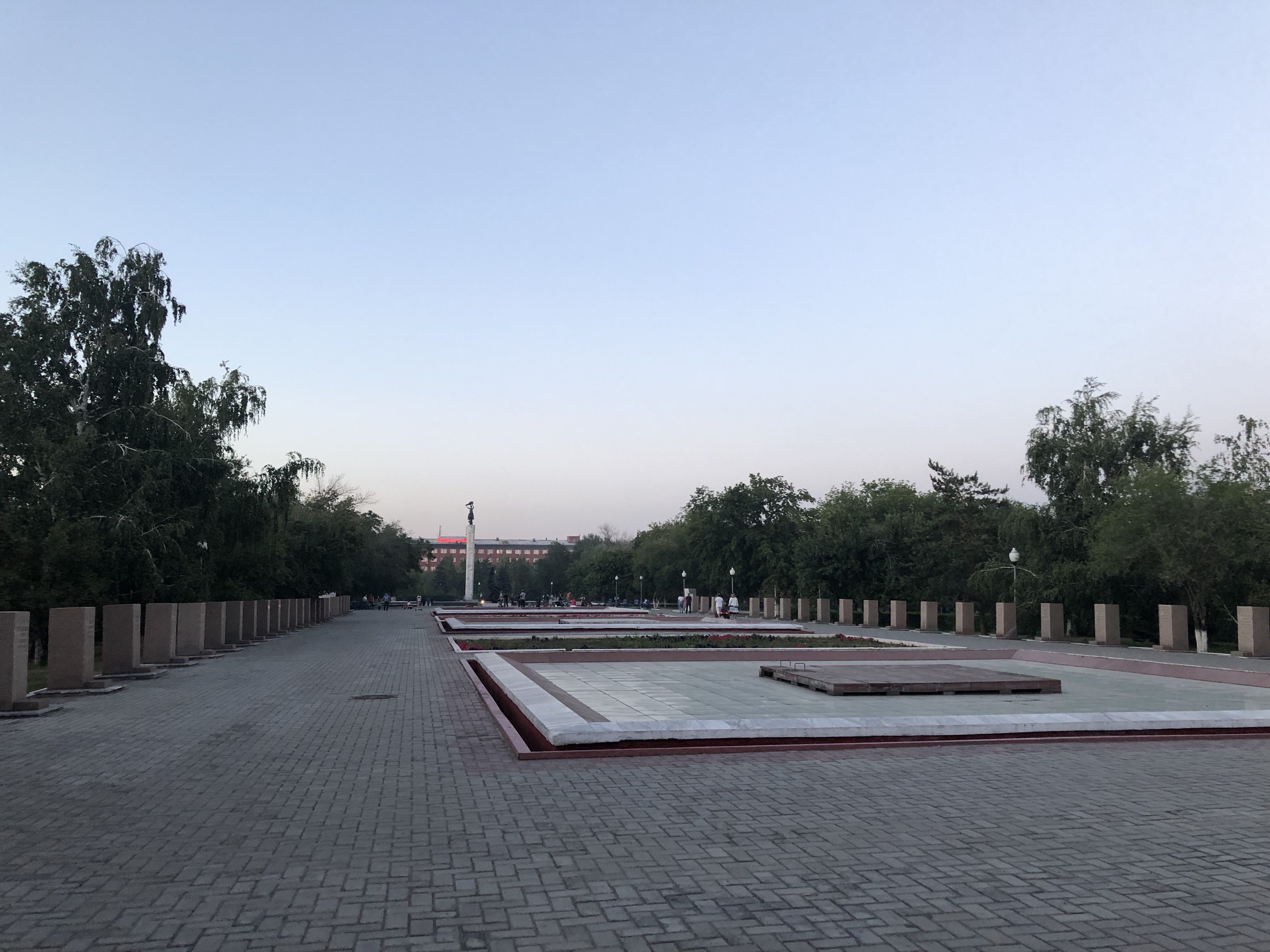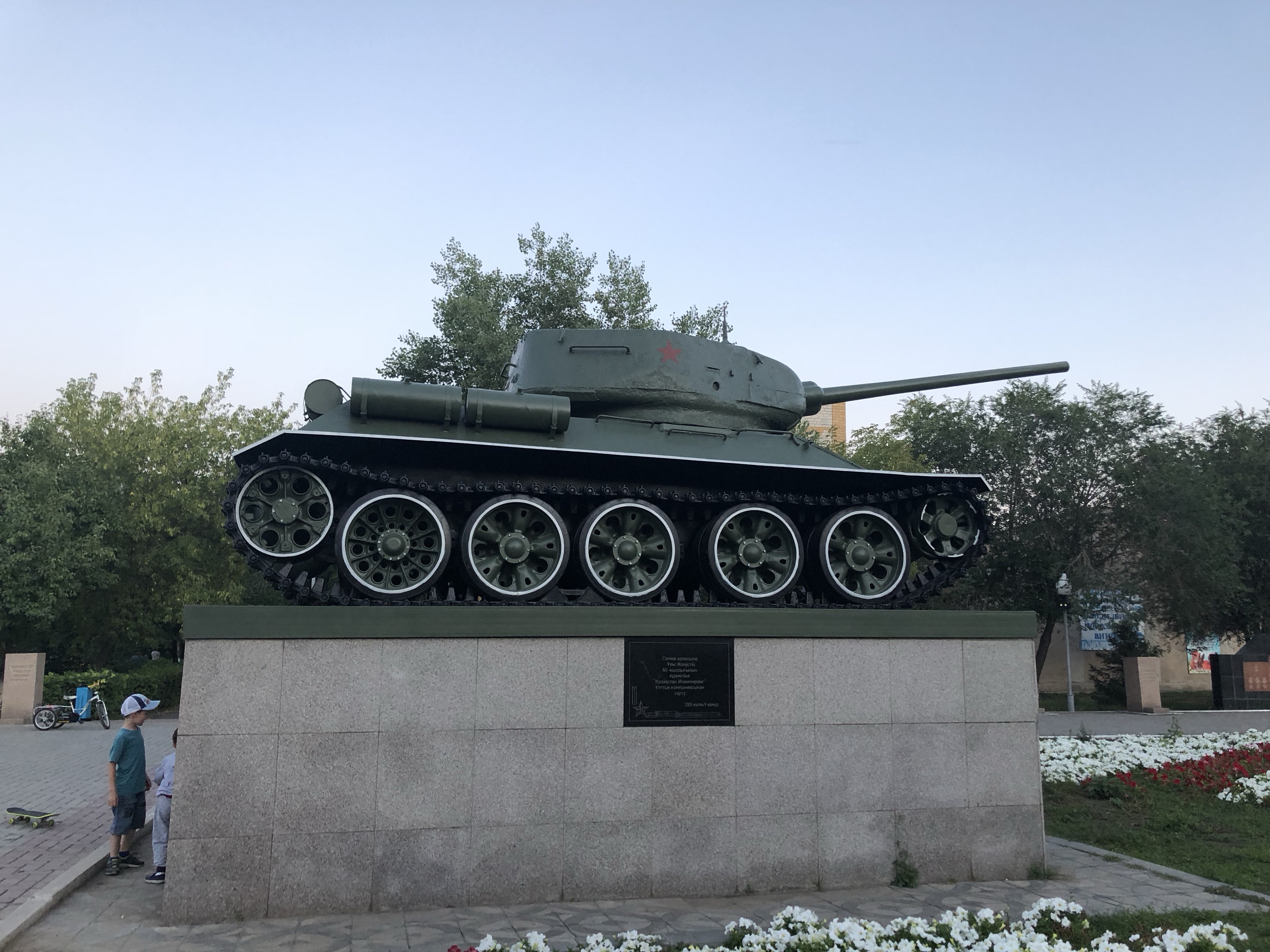 Even though we did not proceed on our trip, it was a nice day with being a tourist in Semey and working on the bike. And meeting great people! Tomorrow will show us if the bike can take the trip home or not…
And Sergey and Tolik, veeeery big thanks to both of you! We really appreciate all the help from you and your kindness! When you come to Finland, you know whom to call. Hope to see you soon again!