On sunday May 6th the weather finally turned to spring, almost like summer.
Aki and Sami started for this seasons first proper ride and we would be joined by Philip from Belgium. Philip is having a vacation in the Nordics, driving his camper with a KTM 690 on the back. He is aiming to ride some TET-routes in Finland, Sweden and Norway.
Sami had prepared a route that would include the TET route south from Kuopio and some other small roads for total of about 150 kms.
We met in the morning by the Puutossalmi ferry and before Philip joined Aki and Sami tried to get the intercoms working but there seems to be some kind of a problem with Sami's intercoms microphone.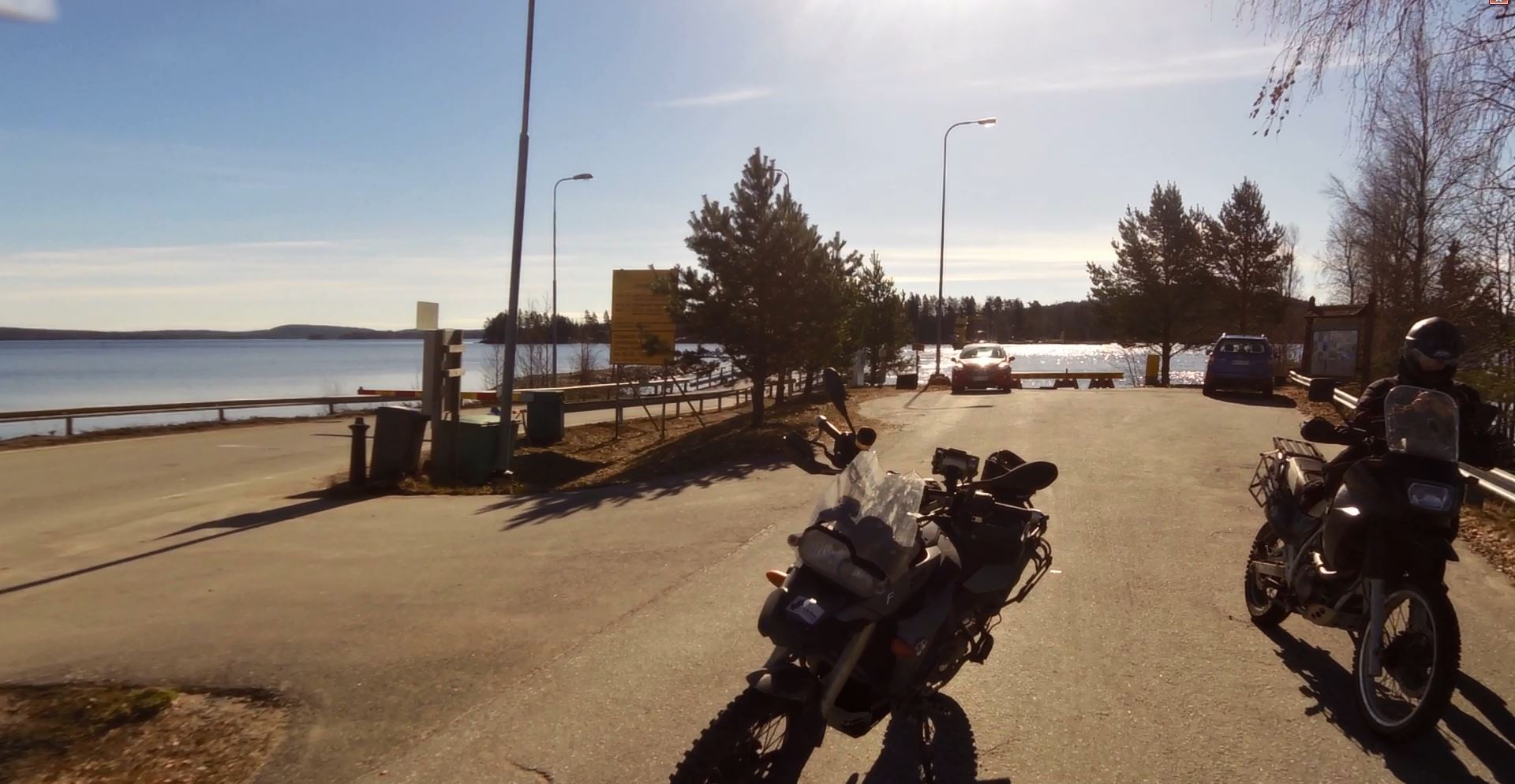 Soon after the ferry we get to the right kind of terrain: forest roads and other small roads. Of course, we also have a little bit of hassle with navigation in the beginning but soon that starts to go well too.
We start by climbing the Puutosmäki hill and then proceed through Soisalo to Leppävirta area. We find great small roads and it becomes evident right away that Philip fits very well in to the team, both as a person and as a rider.
The roads are surprisingly dry after the winter and lots of roads are being maintained now. There is a little bit of snow in some places but not much.
Smaller and bigger gravel roads take turns before we reach a great forest road. The road has small stubs of thin trees that were cut down and this is a bit scary, we dont want to get our tyres broken. In the end we dont have any troubles.
Some roads in the morning are only doable with tractors (or enduro bikes). These roads are super fun and go through pine tree forests. Some times there are trees fallen on top of the road but luckily they are high enough for us to go underneath. There is also some parts where there is a lot of water on the road and some areas with snow almost blocking our progress. One of these is about 30m meters and has 20-30 centimeters of snow. Naturally we made Philip to try it first 🙂
While approaching Leppävirta, we were on bigger gravel roads and even on pavement for short while but that was no problem since the weather was warm and nice. Just a day before it was still so cold that it would have been a torture to do bigger roads.

After joining the TET-route near Leppävirta there was plenty of roads with loose gravel/sand on top due to recent maintenance. On on of the breaks we even got a request from a older man to not spin the wheels too much in order to not spoil the roads. We told him we wouldn't and he calmed down. On that break we removed some layers of clothing since the temperature was now over 15 degrees celsius. Timing for that was excellent since right after the break we came to a section that was one of the most technical and fun of the whole trip.

First we had to move a very large boulder to make the bikes pass and then there was a ditch we had to cross. Philip went first and had no problems. Aki needed just a little push since the bike stalled with the rear wheel in the ditch. Sami got through with some luck…
Last 20 km or so before lunch at Vehmersalmi we were on bigger roads and even on tarmac. Naturally we stopped on the bridge to take some pics.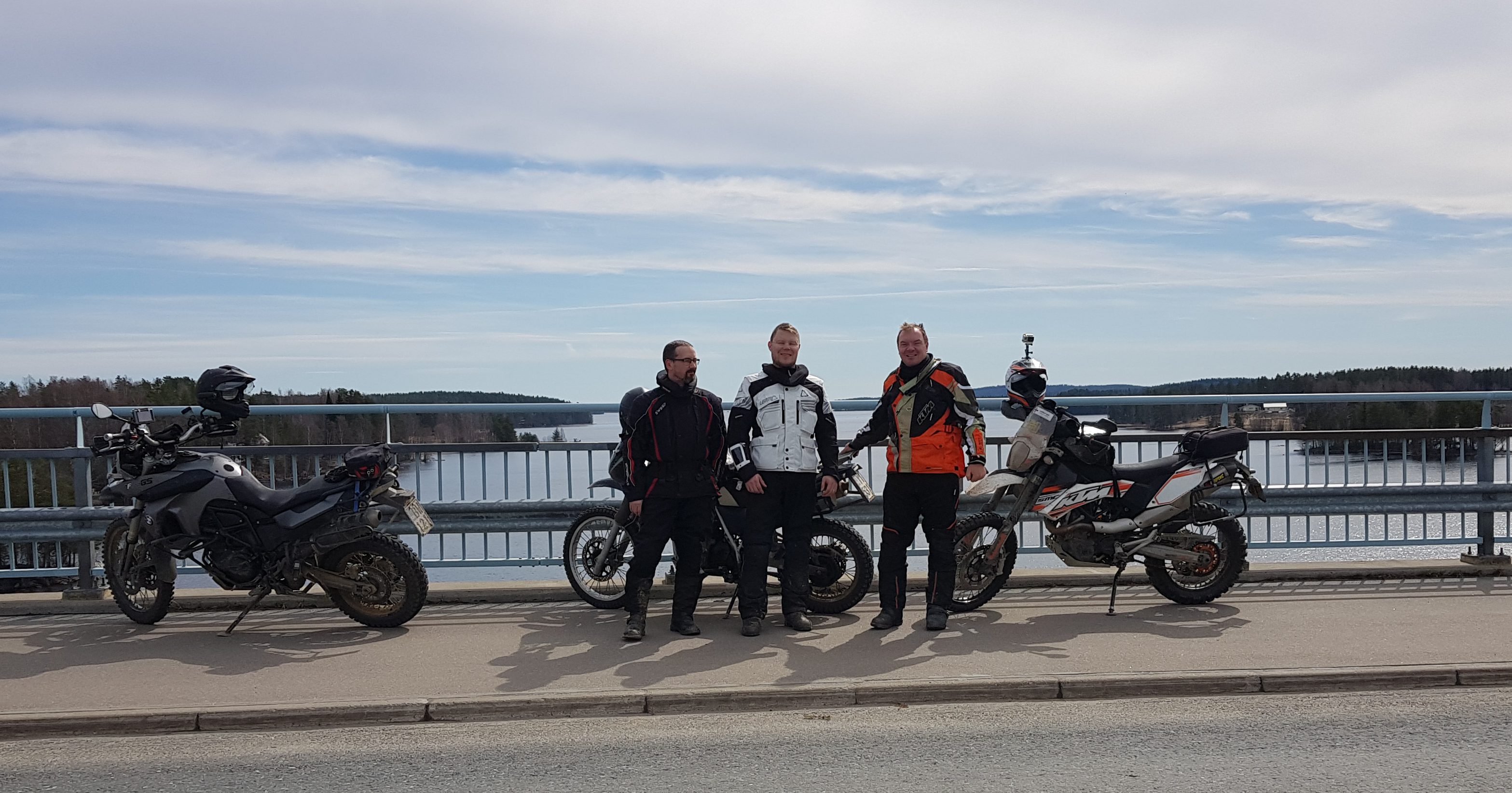 Millibaari restaurant was not yet open so we had the lunch at the gas station, Panini's will have to do.
From Vehmersalmi we only had a little distance to cover but we managed to find enjoyable roads. Twisty small sand and gravel roads. At one point it seemed we must turn back since there was no road visible but instead about 100 meters of piles of big branches that the harvester had left lying around. First Aki tried to find a route through the forest but had to turn back. Then we decided to try to ride over the branches and actually managed quite well, getting some excersice.

We rode together to the ferry and then Sami continued directly to home while Aki and Philip stopped to find a way to Philips camper. Sami and Philip would still meet in the evening and have a dinner together.

Overall a great day of riding and the weather was awesome!
It is good that we kept calm during the riding since couple of times there were cars, trucks or tractors coming and if we would have been blasting around we might have ended up in big troubles.