We took an early breakfast and while enjoying the food we planned the day ahead. Aki was feeling significantly better than yesterday. Sami still needed the rear brake pads for his bike so we decided to start with that. So first we would go to Yokikone that would have the pads available. And we would start our dais ride directly from there, we would ride south from Petrozavodsk to try and find some good (bad) roads for a few hours ride. We will be staying also the next night in Petrozavodsk.
When Sami was preparing the bike, he met Artem who had helped him yesterday in finding parts shops. Artem told that he had called local Yamaha Center and they have brake pads waiting for us. So we decided to go there right away and they did indeed have pads ready, even two models. We took the old ones off and compared those with the new ones.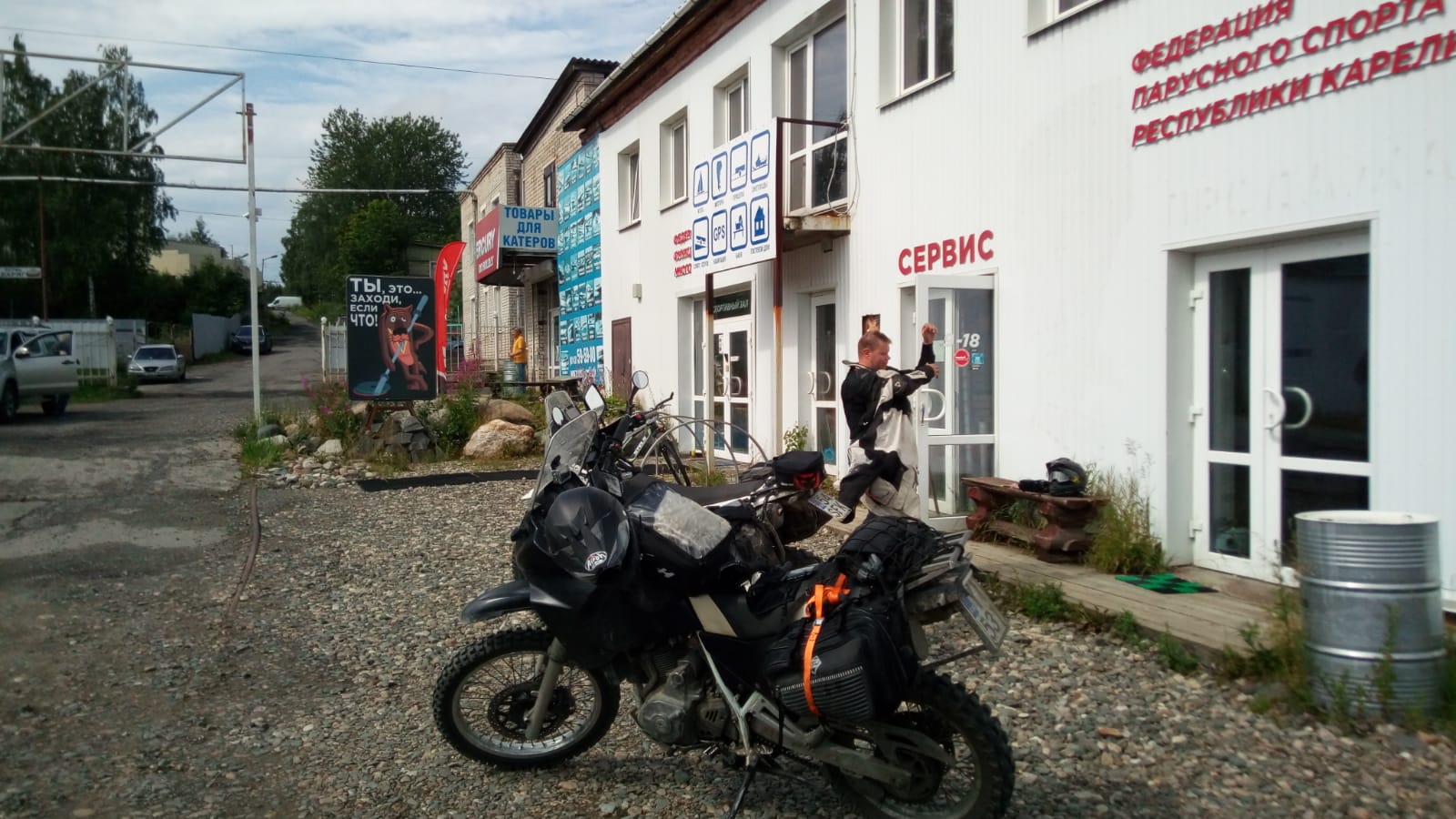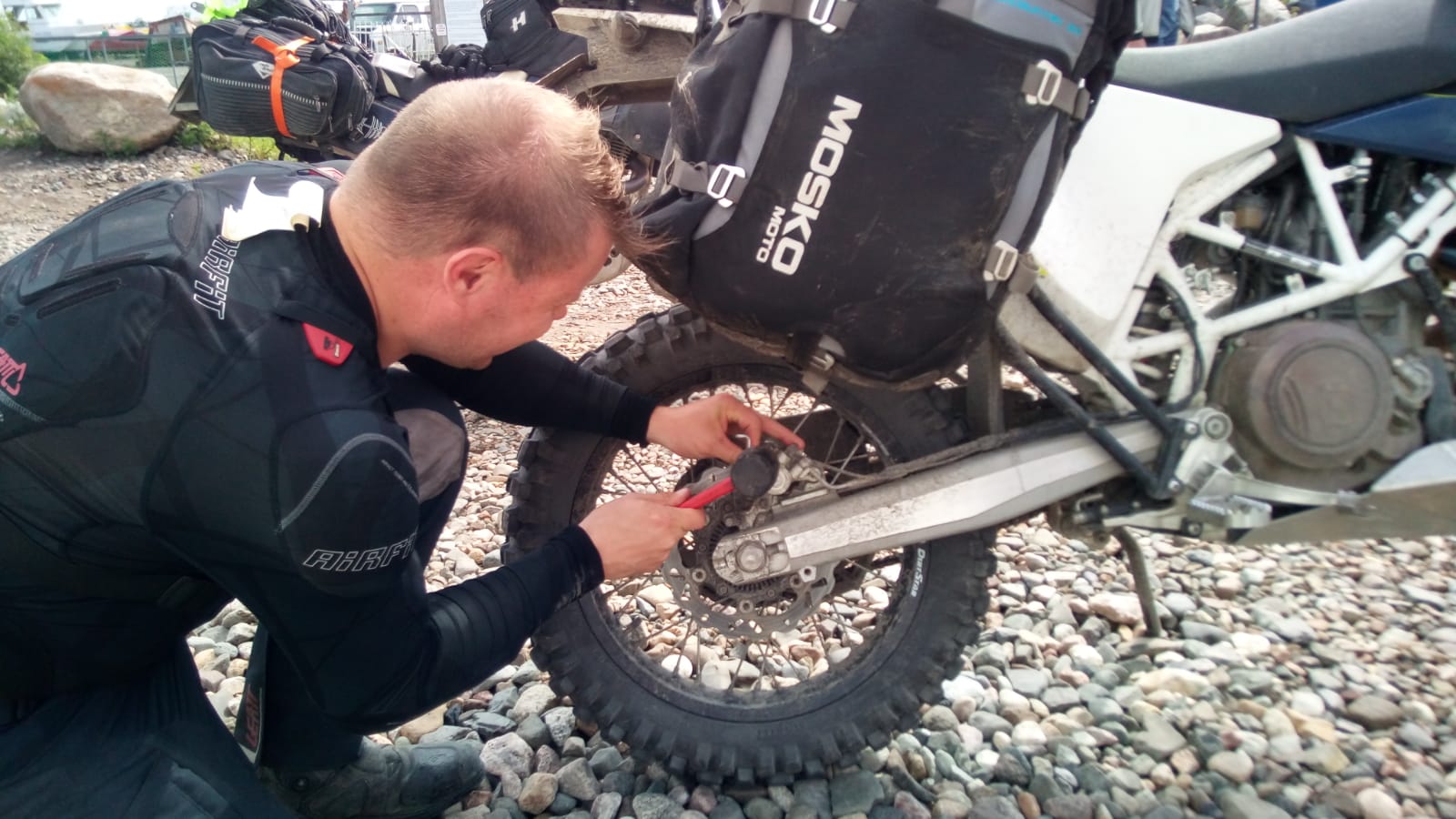 And of course they don't fit!
This little cat was there to help us.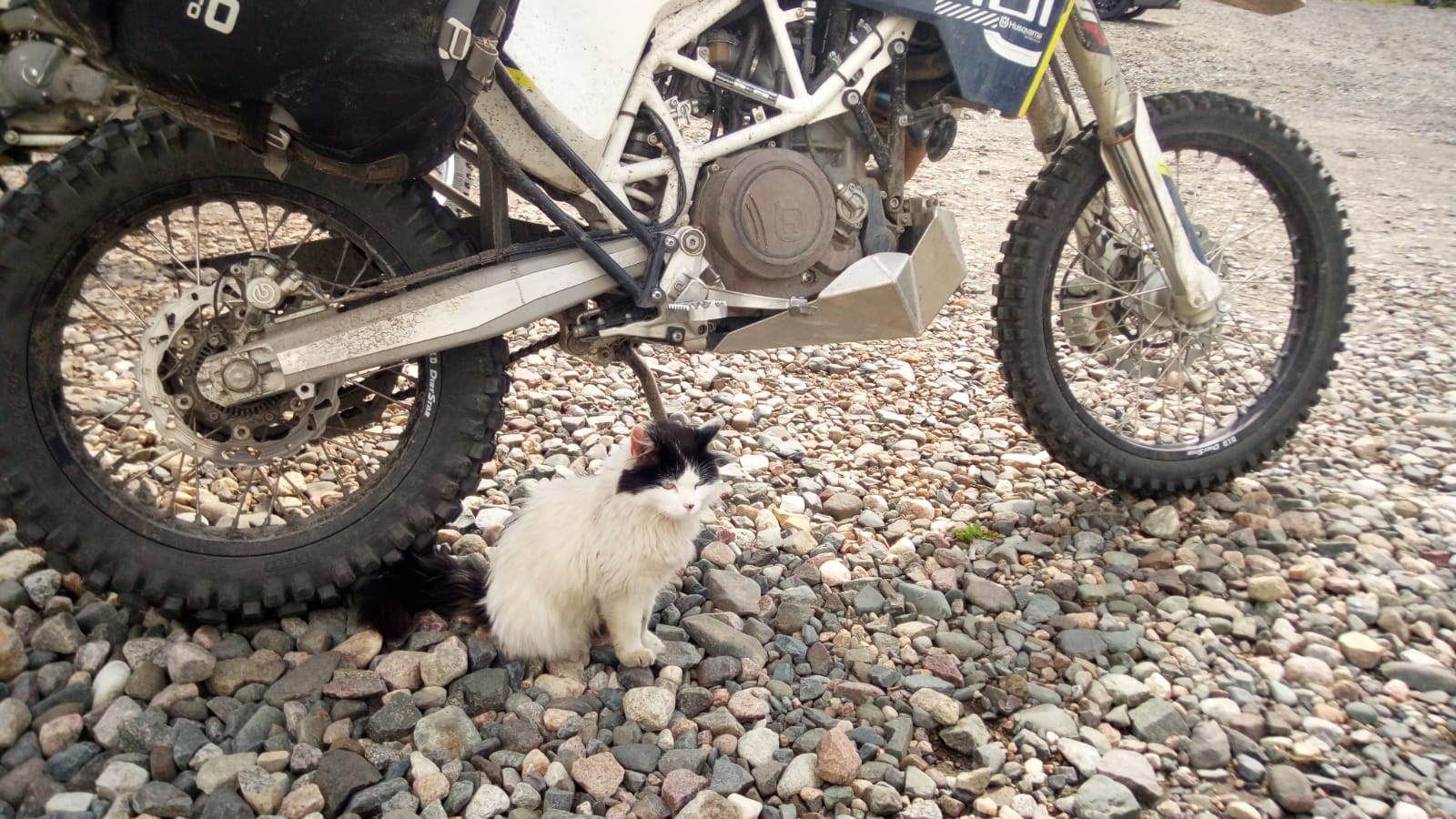 All we could do was to put the old pads back and get to Yokikone.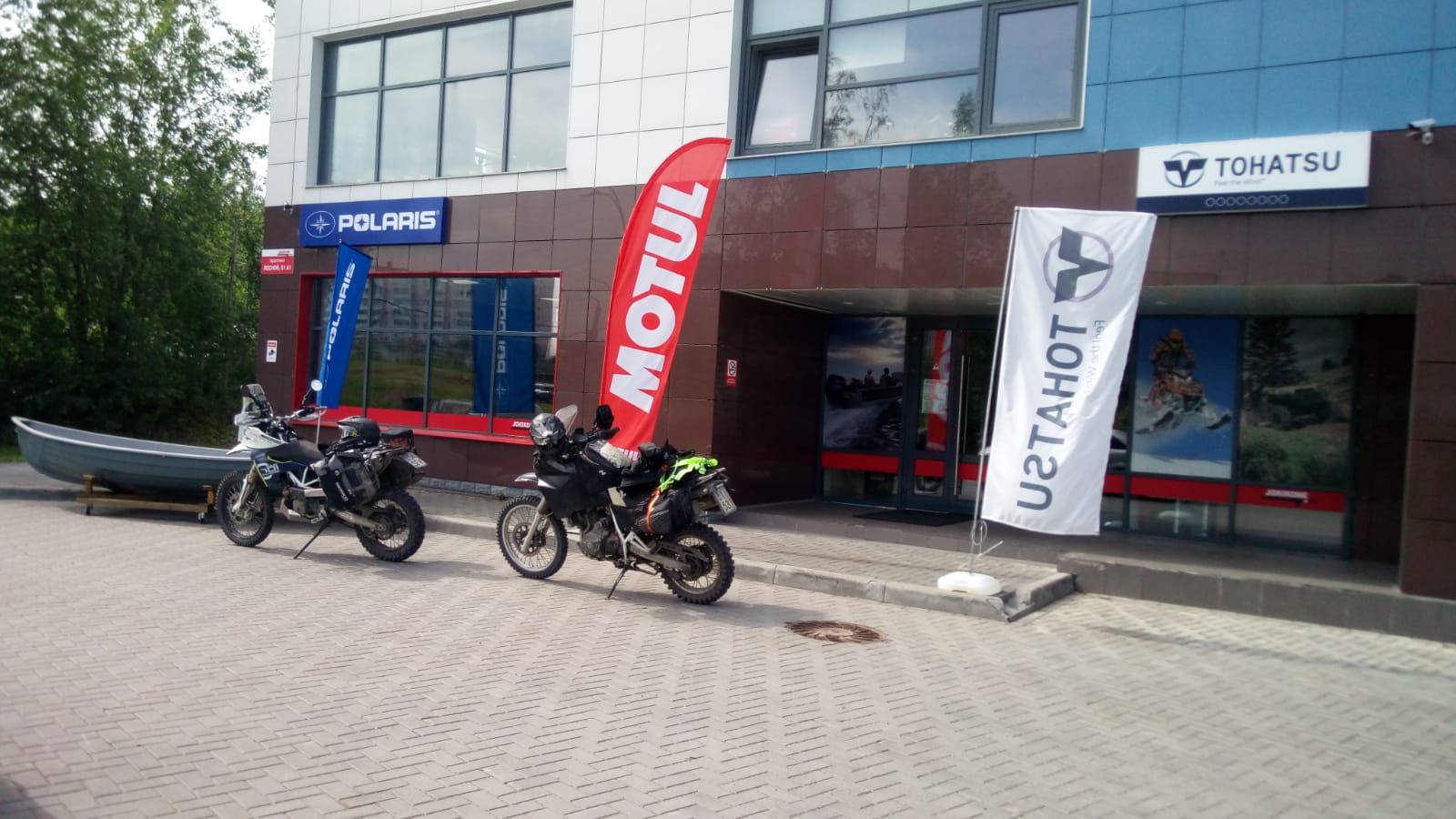 They check their stocks and the result is familiar: no pads that would fit.
However, they called shop called Moto and they said they can get new parts for tomorrow if we ome there to order. However, Sami had visited that shop the day before and then they said they don't have right parts so we decided to go to Karel-Impeks first and only if needed, then to Moto.
At Karel-Impeks, the sales guy immediately calls someone and then tells us that his friend, who rides Yamaha Tenere, has spare set of pads that would fit Samis bike and this guy is on his way here.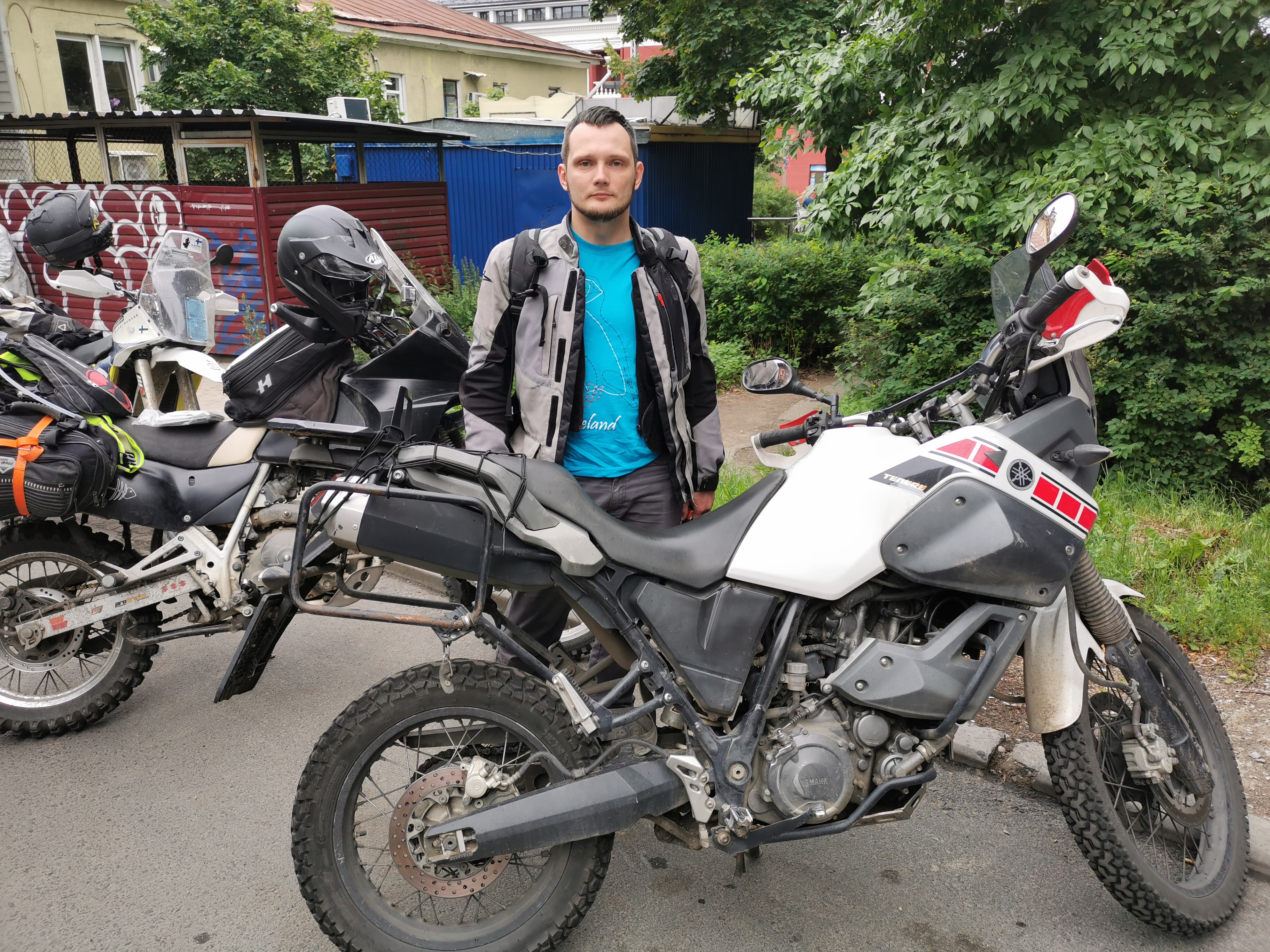 After a short wait we met Roman who did indeed have a set of brake pads that looked like they would fit. We took off the old ones, again, and when comparing we found out that they actually do fit this time! Soon the new pads were installed, with some excess brake fluid removed. Then we went to the shop again and Sami ordered new pads for Roman, he will receive them in few days time.
Additionally, Sami wanted to compensate Romans effort so we agreed he will buy Roman a lunch. So we headed to Romans favorite place in the city center and it was really nice talking with Roman about motorcycle travels as well as many other topics. Such a nice guy!
After the lunch we said thanks and goodbye to Roman and headed south of the city on our preplanned route (the same route that Sami and Mika rode two years back)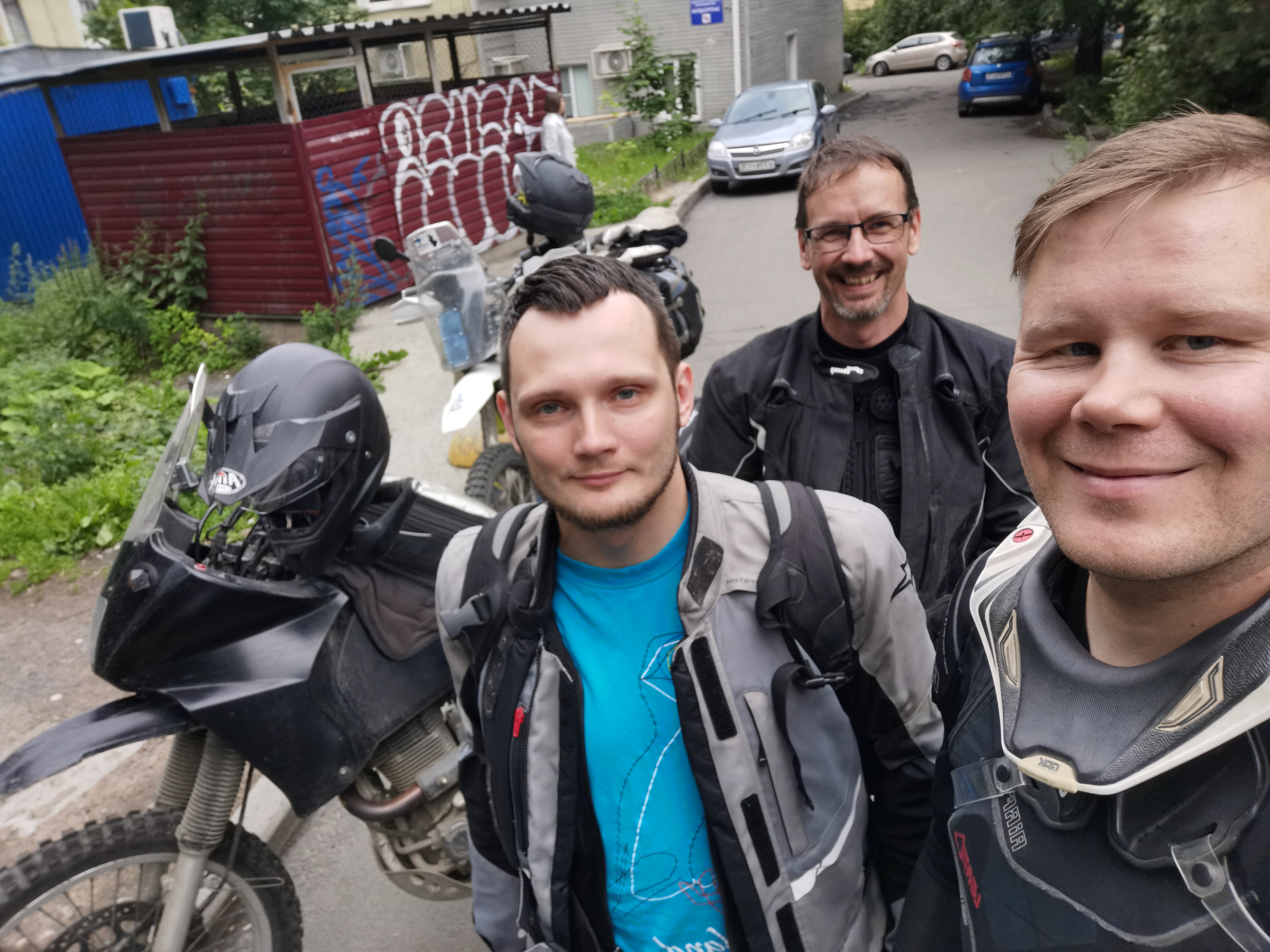 It was already 3pm when we took of so we figured we ant make the whole 300km loop. And also it started raining lightly soon after we took of.
Just after couple of kilometers we were outside of the city on a gravel road and in no time started a great narrow sand road with lots of huge puddles (more like ponds), ruts and pumps and some logs and rocks. However, this was somehow smooth riding, except for one situation that Aki had. He went round a road-wide puddle on the left side and then ended up on the right-hand side on the edge of the road when he hit a fallen tree that was on 80cm hight above the ground adn dropped the bike. The tree hit the bike between front fender and tyre, breaking the rubber protectors that cover the shock absorbers.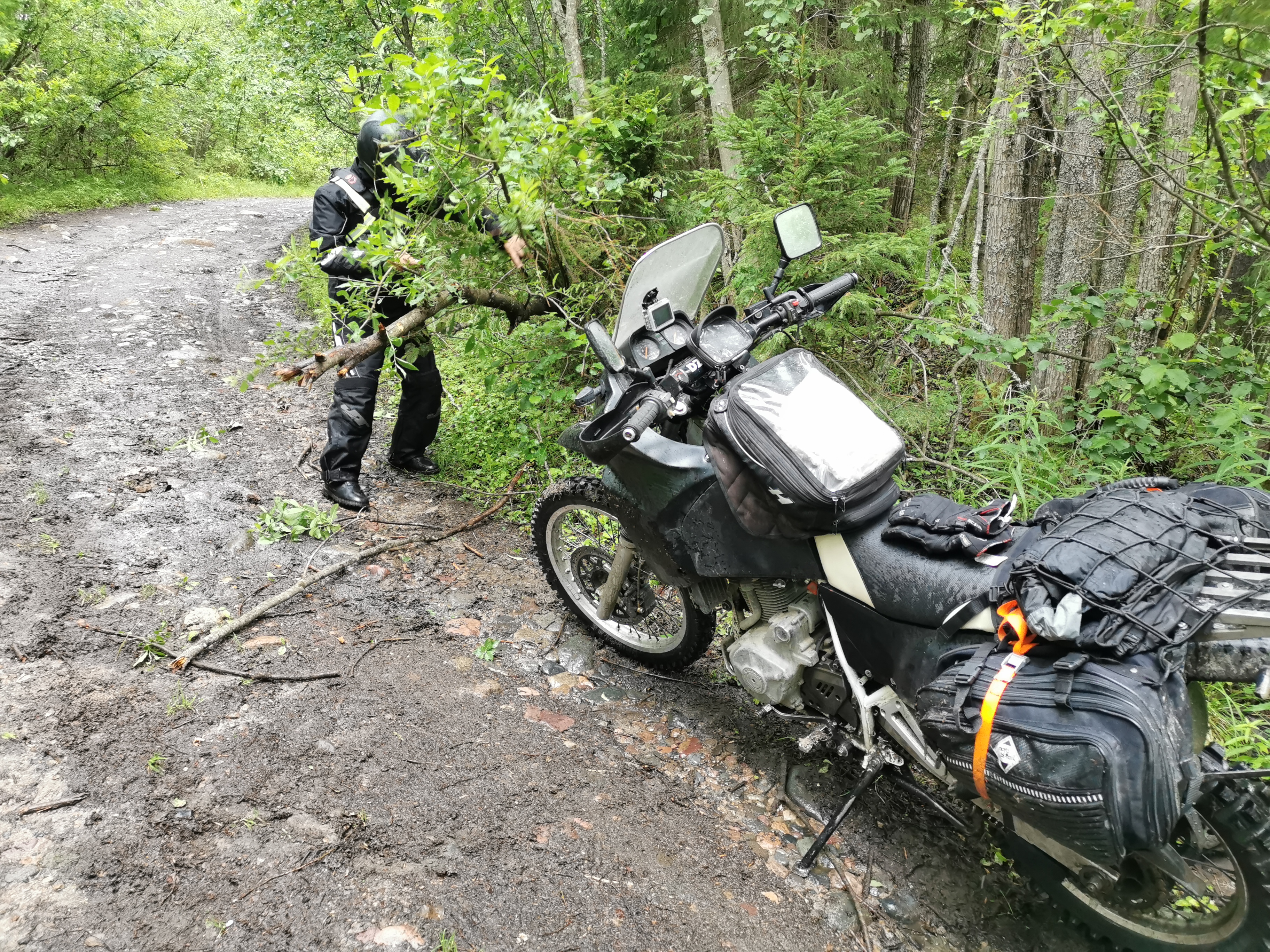 Nothing serious so we carried on. This section was about 15kms and it was followed by same amount of paved road. There Aki bent back the gear lever that had taken a hit on the fall.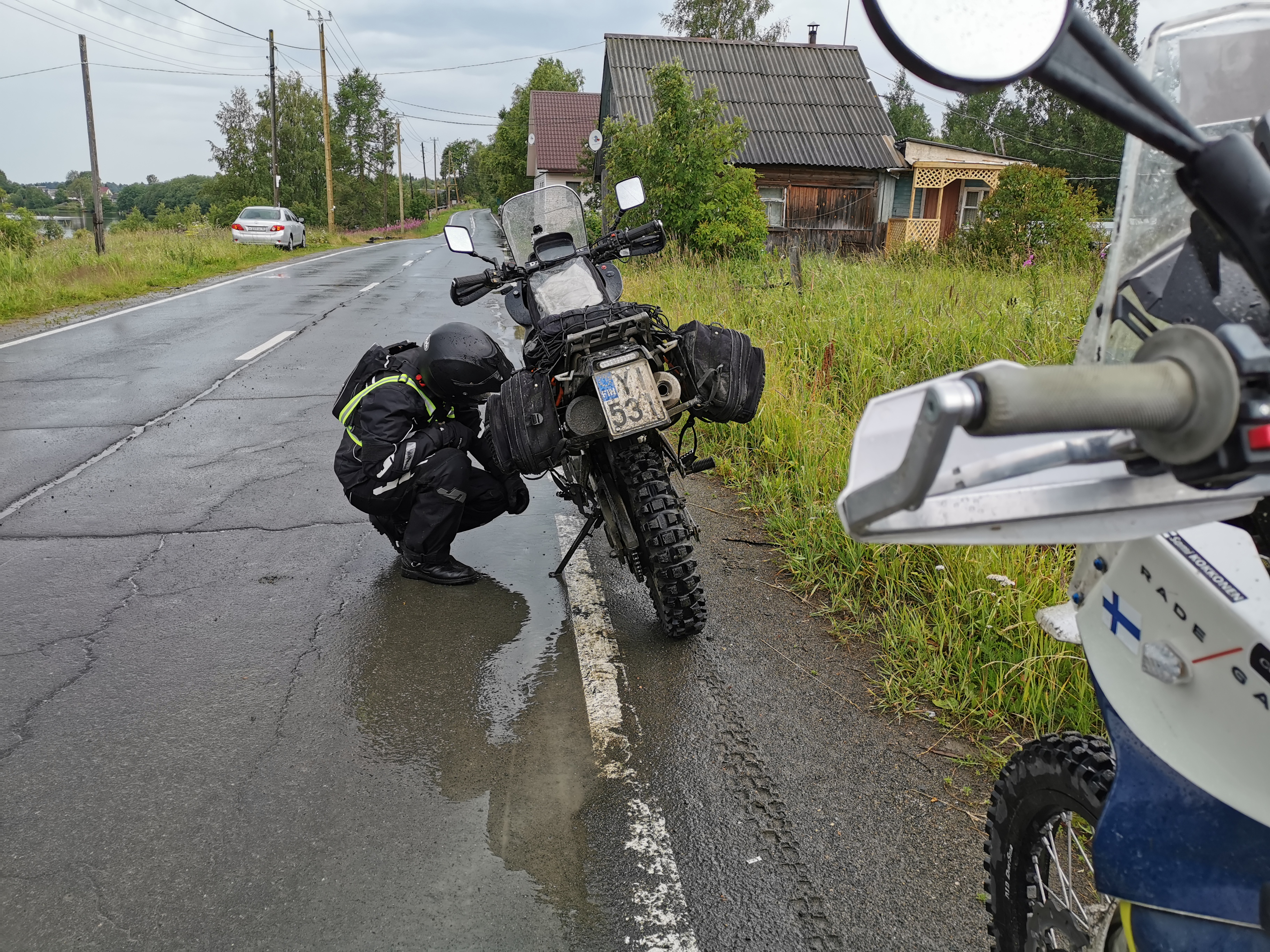 At this point we give up and put the rain gear on, naturally we do this under a shelter (bus stop).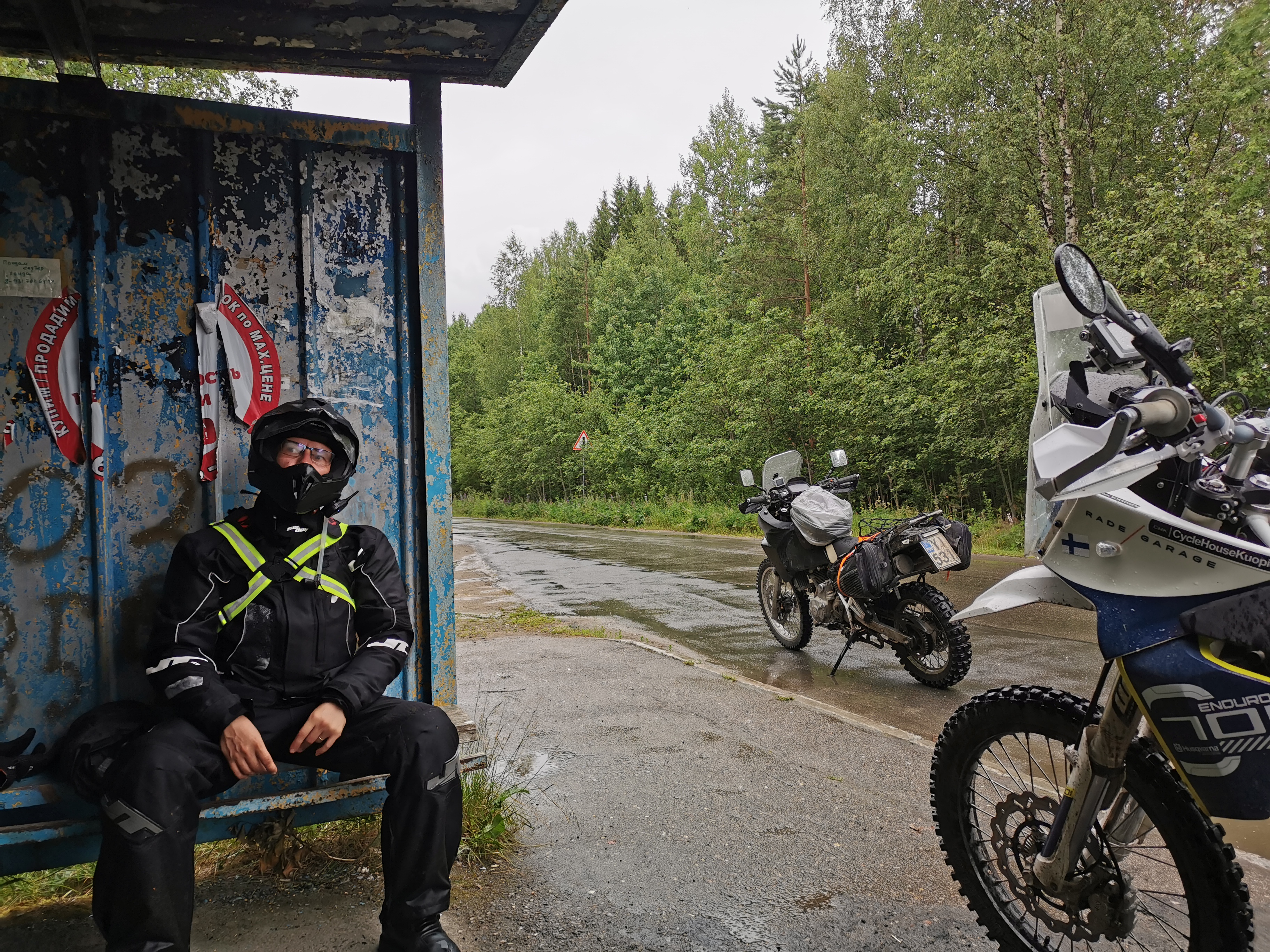 Soon we reached next section of similar road as the previous good (bad) road. This one was over 20ks and we enjoyed it a lot. It was like slalom going from side to side and up and down the ruts and pumps.
Soon after 5pm we decided to find route back and found a nice one. Mainly it was fast flowing gravel roads but it also included couple of short sections with more challenging roads. One of those sections had some deep water puddles but we managed to ride through without problems. We then reached hotel at around 6pm and had ridden a bit over 100 kilometers plus some 30kms in the city in the morning.
In the evening we took a taxi to city center and Sami needed to visit Megafon store to get Internet connection fixed. He had to buy new Internet package due to some problems with the old one but he should get money back in 7 days. Then finally after 8pm we got dinner at a nice restaurant serving traditional Karelian cuisine.